We are delighted to welcome Professor Rekha S. Singhal, Institute of Chemical Technology, India, as an Associate Editor for Sustainable Food Technology, a new open access journal publishing high-quality sustainable research on food engineering and technologies.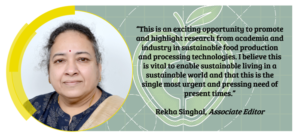 Learn more about our new Associate Editor
Professor Singhal is a full professor at the Institute of Chemical Technology, Mumbai. She received her bachelor's, master's and doctoral degrees in Food Technology in 1984, 1986, and 1990, respectively. She has more than 30 years of experience in teaching and research in broad areas of food science and technology (carbohydrate chemistry and technology, microencapsulation, food product development), bioprocess technology (fermentation and downstream processing of enzymes, polysaccharides, therapeutic compounds and nutraceuticals), Indian traditional foods, and supercritical carbon dioxide extraction of biomolecules of food and nutraceutical interest.
Find out more about Professor Singhal on our webpage.
Read some of her recent RSC papers below:
Encapsulation of ginger oleoresin in co-crystallized sucrose: development, characterization and storage stability
Kapil Rai, Narayansing Chhanwal, Nirali N. Shah, and Rekha S. Singhal
Food Funct., 2021, 12, 7964-7974
A green process for the production of butanol from butyraldehyde using alcohol dehydrogenase: process details
Swati B. Jadhav, Shirish Harde, Sandip B. Bankar, Tom Granström, Heikki Ojamo, Rekha S. Singhal, and Shrikant A. Survase
RSC Adv., 2014, 4, 14597-14602
Sustainable Food Technology is open for submissions. Find out more on the journal webpage, sign up for email alerts or submit your manuscript now.
Please join us in welcoming Professor Singhal to Sustainable Food Technology.