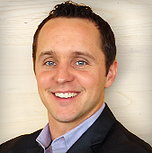 Patrick McNamara is in his third year as an Assistant Professor in the Department of Civil, Construction & Environmental Engineering at Marquette University. His research group focuses on the removal of micropollutants from water, wastewater, and biosolids, and on the interactions between microbial communities and micropollutants with a special emphasis on antibiotic resistance. He earned his PhD in 2012 from the University of Minnesota under the guidance of Paige Novak and his MS in 2008 from the University of Texas at Austin with Des Lawler.
Read Patrick's Emerging Investigators article 'Pyrolysis removes common microconstituents triclocarban, triclosan, and nonylphenol from biosolids' here.


– How has your research evolved from your first to your most recent article?
My first work was on the dewaterability of wastewater biosolids. I worked for a physical-chemical treatment expert while earning my master's, but was drawn to the biological aspects of anaerobic digestion. I grew interested in the interactions between micropollutants and anaerobic treatment processes. My research group now focuses on the impacts of micropollutants in biological systems and investigates ways to remove micropollutants. This most recent article looked at a process to remove micropollutants from biosolids.
– What aspect of your work are you most excited about at the moment?
I am very enthusiastic about our work on consumer product antimicrobials and antibiotic resistance. We have made some interesting findings at Marquette in this area and it will be a fun journey to continue to dive deeper. I am thrilled about a new postdoctoral scholar joining us in January to work in this area, and I am looking to have a PhD student join us in this area as well.
– What was your biggest challenge during this research?
John Ross was my first graduate student. He walked into a lab without established procedures or even an LC-MS at the time. It was a big, but fun challenge to get everything started. John took a risk working for a starting Assistant Professor, but we had a great experience learning from each other. The biggest lab challenge was keeping the reactor system air-tight after multiple experiments.
– How did you find out about Environmental Science: Water Research & Technology?
From David Cwiertny on Twitter! ES:WR&T does a great job getting its name out there on social media, and then the name spreads quickly between colleagues in the field because they put together a great editorial team.
– What are your views on the Environmental Science journals of the Royal Society of Chemistry?
This is my first experience publishing in an Environmental Science journal from the Royal Society of Chemistry. It was terrific. The process was so smooth and clear. The turn-around time was almost unbelievable. They are publishing on a lot of hot topics.
– In which upcoming conferences or events may our readers meet you?
I plan to attend this summer's Gordon conference on Environmental Sciences: Water. I was also invited to talk at ASM Microbe 2016 that will be held in Boston in June.
– How do you spend your spare time?
I enjoy walks with my wife, going to Marquette Basketball games, fishing, playing piano, traveling, and having coffee or a beer with friends.
– If you could not be a scientist, but could be anything else, what would you be?
Well, with no restrictions I would be a professional soccer player or piano player in a band. But honestly, I cannot believe I get to do this job, I love it.
– Can you share one piece of career-related advice or wisdom with other early career scientists?
Find a mentor, and take advice from people in your field that you respect both scientifically and personally. Don't be seduced by the people who talk about how they are always working; they might just have poor time management. This is the best job in the world. Do your job well, and take breaks at the end of the day and on weekends. It's a marathon, but it can be very fun and rewarding. Lastly, learn to delegate and trust others after you have taught them. It is hard to be successful if you need to do everything on your own. Teamwork is very valuable.