Environmental Science: Atmospheres invites your high-impact research for our upcoming themed collection on particle levitation to address challenges in atmospheric science.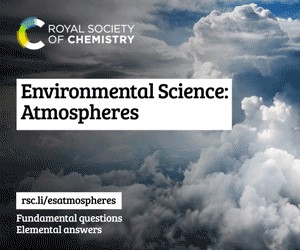 This themed collection will highlight recent high-impact work performed by researchers across the globe using single-particle levitation approaches, including optical, electrodynamic, and acoustic traps. Relevant topics include technique development (including theoretical and practical studies), aerosol physicochemical properties (including particle phase and structure, hygroscopic response, vapour pressure, surface tension, and optical properties), heterogeneous and photochemical reactions, and biologically relevant aerosols.
Guest Editors:  Bryan Bzdek, Man Nin Chan
Submission deadline: 30th September 2022
Submit your manuscript: https://mc.manuscriptcentral.com/esatmos
APCs are waived until mid-2023.