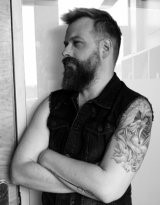 Dr Kevin Wyche is a Reader in Atmospheric Science at the University of Brighton and Director of the University's Centre for Earth Observation Science. Kevin's research interests revolve around study of the Earth's atmosphere, with particular focus on tropospheric processes and air pollution. More specifically, his interdisciplinary research falls into the areas of fundamental chemical processes controlling tropospheric composition and change, air quality science, and analytical instrument development and application in Earth Observation. Kevin is also Principal Investigator of the Brighton Atmospheric Observatory, a community site within the national Atmospheric Measurement and Observation Facility.
Read Kevin's Emerging Investigator Series article "The red sky: investigating the hurricane Ophelia Saharan dust and biomass burning aerosol event" and learn more about him and his research in the interview below:
How has your research evolved from the first article you published, to your article looking at a dust and biomass burning atmospheric event using modelling and remote sensing?
My research has evolved quite a bit and has come down closer to Earth, I started off in my MSc working on the upper atmosphere and looking at the mesosphere/lower thermosphere (MLT) metal layers, but mostly now, our tropospheric observatory in Brighton looks at atmospheric composition and evolution close to the ground.
Techniques have also definitely changed, much more can be done remotely, rather than being hands-on in the lab – this makes essential fieldwork easier and more accessible. So with the Ophelia event, for instance, I was able to log onto the lidar system from home and capture the event as it evolved. The general shift within society to doing more things remotely has opened a lot of doors for international working and collaboration.
More generally, being able to miniaturise instruments and put them on drones, has made the atmosphere more accessible.
What aspect of your work are you most excited about at the moment?
COVID-19 has been utterly tragic and has had many awful consequences, but it has been a totally unprecedented event in our lifetime. The lockdowns were so dramatic and large in scale that they led to a genuine "anthropause", giving us the unique opportunity to use the atmosphere as one giant experiment, as a lens to look into the future and see what might happen in terms of atmospheric composition, change and impacts, if we can make the paradigm shifts we need towards a Net Zero future.
In your opinion, what are the most important questions to be asked/answered in this field of research?
The World Health Organization tell us that around 99% of people on Earth are breathing air that is potentially hazardous for health. So, we need to answer questions around how are we going to improve our air, how quickly can we do this and what will be the atmospheric response, because the atmosphere is a complex beast and it may not respond as we first might think.
What do you find most challenging about your research?
Time – and finding enough time to do everything. As an academic at a teaching university, it is a real challenge to balance all the competing pressures on your time. From maintaining a lab and a research group, doing the science, writing the papers, applying for grants, to designing and delivering current and engaging teaching to our undergraduate and postgraduate students, as well as unseen admin, marketing, recruitment, and finance tasks – and much more.
In terms of my research itself, atmospheric measurements are hard, we are trying to measure tiny quantities of often transient species against a constantly evolving backdrop. And to add to this, it is so much harder than people think to keep an observatory with multiple instruments running 24/7, 365 days a year producing accurate and reliable data for us to use to conduct our science.
How do you feel about Environmental Science: Atmospheres as a place to publish?
I found ES: Atmospheres a great place to publish. Clearly, there is great heritage there, being a Royal Society of Chemistry publication, but also, it's exciting being able to make your mark in a new journal, at the start of its journey. In terms of the process, it was excellent, very quick, efficient and above all, communication was great throughout. Often you submit an article you have been working on for months or years and everything goes silent, you can be quite blind on where things are, but ES: Atmospheres kept us up to date with progress throughout and we were always aware of timescales and when things would happen. Overall, it was probably the most positive journal submission process I've been through.
How do you spend your spare time?
With the spare time I have, I like to paint and I like to spend time riding or tinkering with my motorbike, and rugby (watching more than playing nowadays!) – having spent a lot of time there for my PhD, I'm a big Leicester Tigers fan.
Which upcoming conferences or events will you be attending?
For us next will be EGU General Assembly and then the ESA Living Planet Symposium, where we'll be looking to present some first findings from a couple of projects funded by NERC and HDRUK on changes in ambient tropospheric composition during our COVID-19 lockdowns.
Which profession would you choose if you were not a scientist?
That's tough, I'd have loved to have been a professional rugby player, but I never had that level of skill! I also think I'd have loved to have done some form of archaeology – a lot of atmospheric science is more like a window into the future, but science as a window to the past is equally fascinating.
Can you share one piece of career-related advice or wisdom with other early-career scientists?
Put time aside dedicated to certain tasks, turn off your email and put away everything else and focus on completing that one task. With so many competing demands on you, especially in your early career, it is so easy to get spread too thin, for you to try and do everything at once and ultimately achieve nothing.