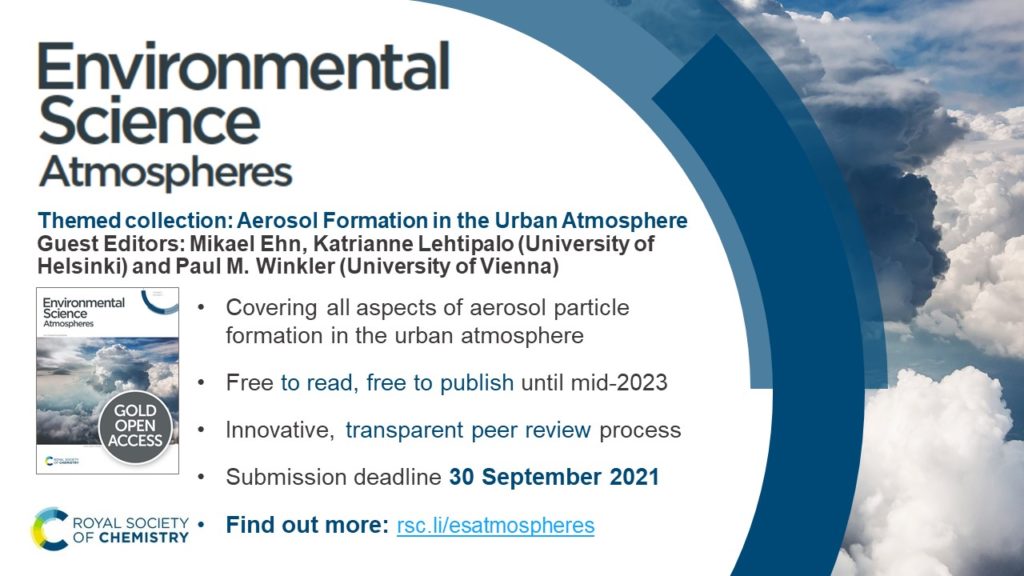 Environmental Science: Atmospheres invites your high-impact research for our upcoming themed collection on Aerosol Formation in the Urban Atmosphere.
This collection will cover all aspects relating to the formation of aerosol particles in the urban atmosphere, including studies on
New particle formation and growth mechanisms and rates
Sources, transformations and chemical composition of aerosol precursor vapours, clusters, and particles
The impact of particle formation on air quality, health, or climate
The Guest Editor team welcome submissions utilizing both theoretical and experimental methods. As a journal, Environmental Science: Atmospheres covers the full breadth of atmospheric science and links fundamental and applied research.
The deadline for submissions is 30th September 2021. Authors are welcome to submit original research as a Communication article or Full Paper or contribute a review article. Please contact the editorial office to register your interest.
Please state "EAAerUrb21" in your comments to the Editor when submitting your work through our platform: https://mc.manuscriptcentral.com/esatmos
Should you have any questions about Environmental Science: Atmospheres, would like to discuss a submission topic or require any further information, please don't hesitate to contact Jon Ferrier in the Editorial Office.