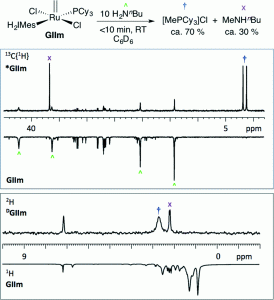 D. Fogg et al. have discovered a powerful means to observe the behaviour of Grubbs metathesis catalysts.
The University of Ottawa researchers tagged first- and second-generation ruthenium catalysts with a 13C label at the alkylidene site using straightforward synthesis routes. This isotopic enrichment allowed 13C NMR spectroscopy to serve as a sensitive probe for the amine-initiated decomposition pathway.
A surprising preference for nucleophilic attack by phosphine was clearly revealed in the 13C NMR spectrum. This demonstrates the diagnostic utility of 13C-enriched complexes relative to both their unlabelled and deuterium-labelled analogues.
This article is featured amongst many other excellent contributions in the latest Catalysis Science & Technology themed issue, Mechanistic Studies in Catalysis.
Take a look at the original article online now!
Isotopic Probes for Ruthenium-Catalyzed Olefin Metathesis
Justin A. M. Lummiss, Adrian G. G. Botti, and Deryn E. Fogg*
Catal. Sci. Technol. 2014, Advance Article, DOI: 10.1039/C4CY01118J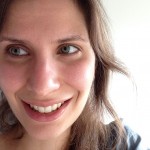 Jenna Flogeras obtained her B.Sc. and M.Sc. in Chemistry from the University of New Brunswick (Fredericton), Canada. She is currently a Ph.D. student at Memorial University in Newfoundland, where she studies aluminum-based catalysts under the supervision of Dr. Francesca Kerton.