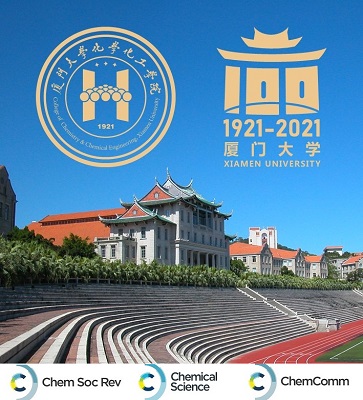 The College of Chemistry and Chemical Engineering (CCCE) at Xiamen University (XMU) is celebrating the 100th anniversary of the establishment of its chemistry discipline! We're delighted to publish this collection of articles to celebrate this important milestone.
Established in 1921, Chemistry at XMU has been a national leader in education and research in chemistry. The CCCE houses 6 major national research platforms, including the world-renowned State Key Laboratory of Physical Chemistry of Solid Surfaces (PCOSS).
On this special occasion, we are pleased to present this virtual collection of CCCE's recent publications in Chem. Soc. Rev., Chem. Sci. and Chem. Comm. to showcase its cutting-edge research in a broad range of frontiers in chemistry.
Selected by XMU Professors Bin Ren and Jun Cheng, these contributions clearly demonstrate the CCCE's emphasis on developing rigorous scientific methodologies for achieving fundamental understanding of complex chemistries, as well as its dedication to pushing the limit of synthetic chemistry for making new molecules and materials with novel functions. Combining these strengths, CCCE researchers are developing promising technologies for applications in energy and biological systems and more.
We hope you enjoy reading this collection.