On behalf of the Chem Soc Rev Editorial Board, we are delighted to announce Professor Yujie Xiong as the winner of the 2019 Chem Soc Rev Pioneering Investigator Lectureship.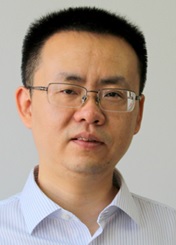 Yujie Xiong received his Ph.D. in inorganic chemistry in 2004, from the University of Science and Technology of China (USTC) under the supervision of Yi Xie. He then worked as a Postdoctoral Fellow with Younan Xia at the University of Washington, before moving to a position a Research Associate at the University of Illinois at Urbana-Champaign with John A. Rogers.
He was the Principal Scientist of the National Nanotechnology Infrastructure Network (NSF-NNIN) site at Washington University in St. Louis between 2009 and 2011.
He returned to USTC, where he is currently based, in 2011 as a Professor of Chemistry. He subsequently took on roles as the Head of Department of Applied Chemistry at the USTC and Director of Division of Nanocatalysis and Energy Conversion at the Hefei National Laboratory for Physical Sciences at the Microscale in 2018.
Prof. Xiong's research interests include inorganic materials and devices for carbon dioxide reduction, nitrogen fixation, methane conversion, water splitting and chemical production.
As part of the Lectureship, Professor Xiong will present lectures at three locations over the coming year. Two dates are already confirmed:
International Symposium on Energy Conversion and Storage Materials Conference 2019
30 July – 2 August, Brisbane, Australia
Prof. Xiong will give a lecture on 31 July 2019 at 1:00 pm on "Coupling Solar Energy into Catalytic CO2 Conversion".
European Research Society 2019 Fall meeting
16 – 19 September 2019, Warsaw, Poland
Registration is open for this event
Prof. Xiong will give a lecture in the "Advanced catalytic materials for (photo)electrochemical energy conversion symposium (stream N) on 17 September 2019 at 11:00 am on "Coupling Solar Energy into Catalytic CO2 Conversion".