On behalf of the Chem Soc Rev Editorial Board, we are pleased to announce the winner of the 2018 Chem Soc Rev Pioneering Investigator Lectureship – Rubén Martín. Our warmest congratulations to Rubén for being selected as the very first Chem Soc Rev Pioneering Investigator!
Rubén was born in Barcelona. He was awarded his PhD in 2003 at Universitat de Barcelona, where he worked with Professor Anotoni Riera on the total synthesis of glycosidase inhibitors. During his independent career, he has received the 2010 RSEQ Young Investigator Award, the 2011 Thieme Chemistry Journal Award, the Eli Lilly Young Research Investigator Award, the 2017 Marcial Menno Lectureship Award and the 2017 OMCOS Award.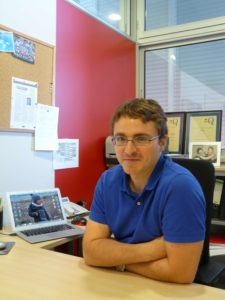 He began his independent career at the Max-Planck-Institut für Kohlenforschung, where he worked with Prof Alois Fürstner on the application of novel iron catalysts for cross-coupling and Alder-ene type reactions. He then moved to the Massachusetts Institute of Technology where he worked with Prof Stephen L. Buchwald and developed new synthetic strategies for metal-catalyzed C-C and C-N bond-forming reactions. In 2008, he joined the Institut Català d'Investigació Química (ICIQ) as a group leader, and in 2013 he was promoted to Associate Professor.
He is currently an ICREA Research Professor at the ICIQ and his group's research interests focus on the discovery and development of synthetically useful organometallic methodologies.
As part of the Lectureship, Rubén will present a lecture at three locations over the coming year, with at least one of these events taking place at an international conference, where he will be formally presented with his Pioneering Investigator Lectureship certificate. Details of his lectures will be announced in due course – keep an eye on the blog for details.