Our current Chem Soc Rev issue is a themed issue on nanoplasmonics, guest edited by Luis Liz-Marzan, Catherine Murphy and Jianfang Wang.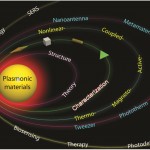 Nanoplasmonics concerns light-matter interactions with nanoscale materials.  Advances in fabrication, computation, and applications ranging from biomedicine to energy have burgeoned in the last 5 years. This themed issue gathers together a variety of reviews and tutorial reviews covering all chemical aspects of the field, from synthesis and fabrication to plasmon-enhanced effects in physical and biological systems.
To read the full editorial for free, click the link below:
Nanoplasmonics
Luis M. Liz-Marzán, Catherine J. Murphy and Jianfang Wang
DOI: 10.1039/C4CS90026J
If you are interested in Nanoplasmonics, why not register for the Faraday Discussion in London, February 2015.
This meeting aims to highlight the most recent breakthroughs in the multidisciplinary field of nanoplasmonics. The following themes will be covered:
Plasmonic nanoparticles and metamaterials with designed optical properties
Surface plasmon enhanced spectroscopies
Quantum plasmonics, gain and spasers
Biosensing and biomedical applications of plasmonics
Faraday Discussions have a special format where research papers written by the speakers are distributed to all participants before the meeting, and most of the meeting is devoted to discussing the papers. Click the link to find out more about the Nanoplasmonics Faraday Discussion.
The oral abstract deadline is Monday 19th May 2014 – so don't delay submit your oral abstract today! You can view details of the other submission deadlines on the Abstract Submission homepage.