We warmly welcome Professor Shunichi Fukuzumi (Osaka University, Japan) as a new member of the Chem Soc Rev Editorial Board.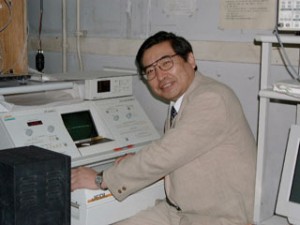 Shunichi was born in Nagoya, Japan, and received his BSc and PhD degrees from the Tokyo Institute of Technology in 1973 and 1978, respectively.  After a post-doctoral position at Indiana University, he joined the faculty at Osaka University in 1981, where he was promoted to full professor in 1994.  In 2013, he was selected as a special distinguished professor at Osaka University, where he served as Director of a Global COE program from 2007 to 2011 and where he is currently the Director of an ALCA  (Advanced Low Carbon Technology Research and Development) project of Japan Science Technology Agency (JST).
Work within the Fukuzumi lab at Osaka University focusses on artificial photosynthesis and electron transfer chemistry.  Shunichi has published over 900 articles with over 25,000 citations and holds 43 patents. He was the recipient of the 2004 Chemical Society of Japan (CSJ) Award, and was awarded a Medal with Purple Ribbon by the Emperor of Japan in 2011.
Read more about Shunichi's research in some of his latest articles and a recent ChemComm interview:
Interview with Shunichi Fukuzumi
Chem. Commun., 2013,49, 7374-7375
DOI: 10.1039/C3CC90185H, Profile
From themed collection ChemComm Interviews
Tetrathiafulvalene-annulated [28]hexaphyrin(1.1.1.1.1.1): a multi-electron donor system subject to conformational control
Atanu Jana, Masatoshi Ishida, Kevin Cho, Sudip Kumar Ghosh, Kyuju Kwak, Kei Ohkubo, Young Mo Sung, Christina M. Davis, Vincent M. Lynch, Dongil Lee, Shunichi Fukuzumi, Dongho Kim and Jonathan L. Sessler
Chem. Commun., 2013,49, 8937-8939
DOI: 10.1039/C3CC44934C, Communication
From themed collection J400: Celebrating the 400th year of Japan-UK relations
A mononuclear nonheme iron(III)–peroxo complex binding redox-inactive metal ions
Yong-Min Lee, Suhee Bang, Yun Mi Kim, Jaeheung Cho, Seungwoo Hong, Takashi Nomura, Takashi Ogura, Oliver Troeppner, Ivana Ivanović-Burmazović, Ritimukta Sarangi, Shunichi Fukuzumi and Wonwoo Nam
Chem. Sci., 2013,4, 3917-3923
DOI: 10.1039/C3SC51864G, Edge Article
Ionic conductivity of [Li+@C60](PF6−) in organic solvents and its electrochemical reduction to Li+@C60˙−
Hiroshi Ueno, Ken Kokubo, Yuji Nakamura, Kei Ohkubo, Naohiko Ikuma, Hiroshi Moriyama, Shunichi Fukuzumi and Takumi Oshima
Chem. Commun., 2013,49, 7376-7378
DOI: 10.1039/C3CC43901A, Communication
Open Access
Submillisecond-lived photoinduced charge separation in inclusion complexes composed of Li+@C60 and cyclic porphyrin dimers
Takuya Kamimura, Kei Ohkubo, Yuki Kawashima, Hirofumi Nobukuni, Yoshinori Naruta, Fumito Tani and Shunichi Fukuzumi
Chem. Sci., 2013,4, 1451-1461
DOI: 10.1039/C3SC22065F, Edge Article
Open Access
Selective photocatalytic reactions with organic photocatalysts
Shunichi Fukuzumi and Kei Ohkubo
Chem. Sci., 2013,4, 561-574
DOI: 10.1039/C2SC21449K, Perspective