Markus Ludwig and Seth Fraden
Martin A. Fisher School of Physics, Brandeis University, Waltham, Massachusetts 02454, United States
Why is this useful?
---
To achieve high resolution and high aspect ratio features in contact lithography it is necessary to have the photomask in direct contact with the photoresist during the exposure. This is impeded by the formation of edge beads on the edge of the wafer, which can measure multiples of the nominal resist thickness [1].
Dedicated spin coaters remove edge beads automatically just after spin coating. However, during soft baking, a new edge bead forms due to the coffee ring effect [2]. It is therefore recommended, especially for thicker resist films, to remove the edge bead not before, but after soft baking [3].
Edge bead removal is not critical on single layer devices. However, for multi level designs, edge bead removal can improve the feature resolution significantly. This is especially the case if the first layer of resist is thick and the second layer is thin.
This article presents the fabrication and use of a simple and inexpensive device to reliably remove edge beads by solvent spraying.
What do I need?
---
Materials:
100 ml round media storage bottle GL45
Diba Labware bottle cap Q series GL45 2 x 1/4 -28 ports with valves (00945Q-2V)
acrylic sheet, 12" x 6", 3/16" thick
polyethylene sheet, 1/16 " thick
3x AAA battery pack with on/off switch + batteries
Parker micro diaphragm pump T2-05 IC (3/32 ID)
2x ¼-28 to barbed 3/32 ID fitting
silicone tubing  0.078" ID, 50 cm length
2x flat head machine screw 4-40 3/8 + nuts
2x socket head machine screw 6-32 3/8 + nuts + washers
stainless steel blunt needle with 27 gauge Luer polypropylene hub, 1/2″ length
cable tie 4"
polypropylene tube fitting, male Luer slip to barbed coupler, 3/32″ tube ID
Tools:
hot air gun (Aoyue 968a+)
laser cutter (40W/45W CO2 Hobby Laser by Full Spectrum Laser) or scroll saw, drill press and drill bits
soldering iron (Aoyue 968a+) and solder
What do I do?
---
To build the edge bead remover, first prepare all components as shown in figure 1.
Cut the acrylic sheet and the polypropylene sheet and drill the holes as indicated in the schematic1.pdf or schematic1.dwg (AutoCAD) file. Solder battery pack wires to the pump. Then follow the instructions in video 1.
Figure 1: Materials needed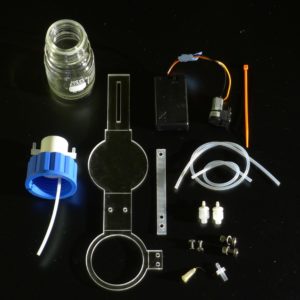 Figure 2: Assembled device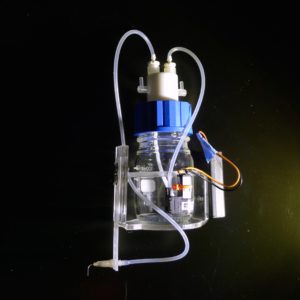 Edge bead removal (follow the instructions in video 2):
Spin coat wafer, soft bake and cool down.
Center the wafer on spin coater and spin at 700 rpm. The optional centering tool used in the video was 3D printed on a formlabs form one 3D printer. (Use centering tool.stl file to reprint)
Turn on pump, open pump valve to pressurize bottle, position nozzle over edge bead.
Open spray valve and dissolve edge bead
Sweep outwards slowly and keep spraying for another 15 seconds.
Turn off spray valve and ramp up to 2000 rpm for 10 sec.
Turn off pump and close both valves. Developer may remain in the bottle and in the tubing.
Wafer does not have to be baked again and can be exposed immediately.
Figure 3: SU8 coated 3" wafer before (left) and after edge bead removal (right).
Figure 4: Comparison of feature resolution
CAD drawing of a multi layer design
Figure 5: SU8 master fabricated with edge bead
Figure 6: SU8 master fabricated without edge bead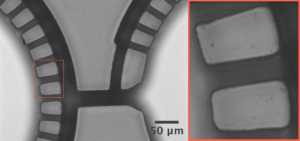 Video 1: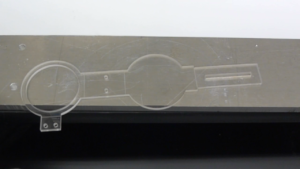 Video 2: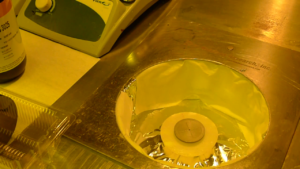 References
---
[1] ‪ Shaurya Prakash, Junghoon Yeom, Nanofluidics and Microfluidics: Systems and Applications ‪Micro and Nano Technologies‪, William Andrew, 2014
[2] Robert D. Deegan, Olgica Bakajin, Todd F. Dupont, Greb Huber, Sidney R. Nagel and Thomas A. Witten, Capillary flow as the cause of ring stains from dried liquid drops, Nature 389, 827-829 (23 October 1997), doi :10.1038/39827
[3] http://www.cns.fas.harvard.edu/facilities/docs/SOP031_r2_6_SU-8%20photolithography%20process.pdf