Amy C. Rowat and David A. Weitz
Dept. of Physics/Harvard School of Engineering and Applied Sciences, Harvard University, Cambridge, MA, USA
Why is this useful?
---
The microfluidic channels in PDMS devices are connected to the macroscopic world by inserting tubing into the inlet holes of flow channels.  We make inlet holes by punching through the PDMS with a razor-sharp biopsy punch to remove a piece of PDMS similar in diameter to the tubing.  However, it is often difficult to see where to punch this hole, especially when channels are shallow in height.  Here we present a tip that makes it easy to see where to punch inlets in PDMS devices by putting a ring light source beneath the device; because the channels scatter the light, the inlets are easy to see.
What do I need?
---
PDMS mold
biopsy punch (0.75 mm for PE20 tubing, Harris Uni-Core, Ted Pella, Inc., Redding, CA)
piece of glass (borosilicate plate or glass microslide)
ring light (Dolan-Jenner Industries, Inc.) [Note: many dissecting scopes are equipped with a ring light; a homebuilt apparatus could also be used.]
isopropanol
What do I do?
---
Peel the PDMS off the master wafer.
Invert the ring light and place the glass slide on top.  [We use the light source from the dissecting scope in our cleanroom.]  Then place the PDMS device on the glass slide with the channels facing upwards (Figure 1).  By moving the device to different positions on the glass plate, different angles of backlighting result making it easier to see the inlets and channels.
When you have located the correct position of the inlet, press the biopsy punch through the PDMS so that it contacts the glass, then turn the punch one quarter clockwise.  Lift the PDMS off of the glass surface, the then depress the button on the biopsy punch to release the PDMS plug.  Be sure that the plug detaches from the device; sometimes the plug can get stuck and obstruct the inlet hole.
Rinse the device thoroughly with isopropanol.  Chunks of torn PDMS get stuck in the holes, so it is important to flush them with solvent.  Dry with filtered air.
Plasma treat the PDMS, bond to glass, and insert tubing.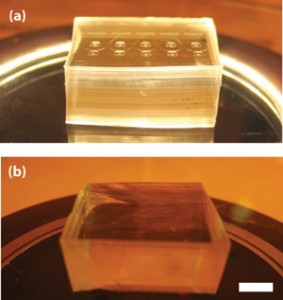 Figure 1. (a) A glass slide placed on top of an inverted ring light creates a platform that makes it easy to see where to punch holes in a PDMS microfluidic device. The device shown here has channels of 4.5 µm height. (b) In the absence of backlighting, the channels are difficult to see. Scale, 5 mm.
What else should I know?
---
In addition to backlighting, it also helps to fabricate a pattern in or around the inlet that scatters light.  We typically use a pinwheel pattern inside the hole as well as lines radiating out from the holes as shown in Figure 1.