We are delighted to introduce Jin Zhang as an Advisory board member for RSC Chemical Biology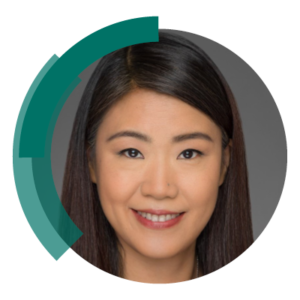 Dr Jin Zhang received her PhD in Chemistry from University of Chicago in 2000.  After completing her postdoctoral work in the laboratory of Roger Tsien at UC San Diego, she joined the faculty of Johns Hopkins University School of Medicine in 2003. She was promoted to Professor of Pharmacology, Neuroscience and Chemical and Biomolecular Engineering in 2013. In 2015 she moved back to UC San Diego and is currently Professor and vice Chair in Department of Pharmacology. She is also a member of the Moores Cancer Centre and an Affiliate Professor in Departments of Bioengineering and Chemistry & Biochemistry at UC San Diego. She co-directs the Centre for Cell Signaling San Diego with Dr Alexandra Newton. Research in her lab focuses on developing enabling technologies to probe the active molecules in their native environment and characterizing how these active molecules change in diseases including cancer. Dr Zhang is a recipient of Biophysical Society Margaret Oakley Dayhoff Award (2009), NIH Director's Pioneer Award (2009), John J. Abel Award in Pharmacology (2012), Pfizer Award in Enzyme Chemistry (2012), NCI Outstanding Investigator Award (2015 and 2022), Novartis Global Scholar Award (2021), Robert R. Ruffolo Career Achievement Award in Pharmacology (2022) and the Protein Society Christian B. Anfinsen Award (2022). She was elected as a Fellow of the American Association for the Advancement of Science (AAAS) in 2014, a Fellow of the American Institute for Medical and Biological Engineering (AIMBE) in 2019 and a Fellow of American Society for Pharmacology and Experimental Therapeutics in 2021 (FASPET). Dr Zhang also received UC San Diego Chancellor's Award for Excellence in Postdoctoral Scholar Mentoring in 2019 and Outstanding Graduate Student Mentoring Award in UC San Diego Jacobs School of Engineering in 2022. Dr Zhang will be receiving the Carolyn Cohen Innovation Award from the Biophysical Society in 2023.
About RSC Chemical Biology
Led by Hiroaki Suga (University of Tokyo), RSC Chemical Biology is dedicated to publishing and disseminating the most exceptionally significant, breakthrough findings of interest to the chemical biology community. All submissions are handled by our experienced and internationally recognised Associate Editors. For more information on the journal, please visit the journal homepage.
As a gold open access journal, there are no barriers to accessing content and your research article will reach an international audience. Please note that the article processing charges are waived until mid-2022, so the journal is currently free to publish in.
RSC Chemical Biology is now indexed in the Directory of Open Access Journals (DOAJ), PubMed Central, Scopus and Web of Science: Emerging Sources Citation Index.  Find out more about the journal and submit your work at rsc.li/rsc-chembio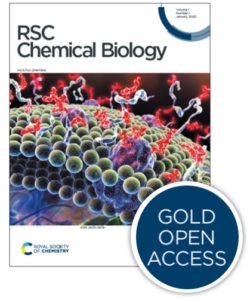 Royal Society of Chemistry