We're excited to share with you our new cross-journal themed collection on "Multimolecular Crowding in Biosystems" for RSC Chemical Biology and ChemComm.
Living cells comprise a variety of molecules from small cations/anions, metabolites, lipids, peptides, to biopolymers such as peptides/proteins, polysaccharides, and nucleic acids. These biomolecules are highly condensed inside the live cells and their distribution and concentration are heterogeneously varied (in a controlled manner). Such multimolecular crowding conditions are sharply distinct from those of conventional biochemical study, should be crucial for elucidating structures and functions of biomolecules in live cells, as well as for developing functional artificial molecules useful in chemical biology study, drug discovery, and medical diagnosis.
In this cross-journal themed issue, explore research papers, reviews, and communications in ChemComm and RSC Chemical Biology concerning chemical, physical, theoretical, or biological characterization of various biomolecules under the multimolecular crowding conditions. Also discover the development of chemical tools and devices enabling the detection and imaging of key biomolecules and the relevant events in live cells, methods for the structural modification and functional switching/control of biomolecules, and analytical or physical chemistry approaches applicable to study of multimolecular crowding biosystems.
Explore some of the papers in the collection below, and see the full collection here: Cross-journal themed collection on 'Multimolecular Crowding in Biosystems'
Highlight
Fluorescent probes for targeting endoplasmic reticulum: design strategies and their applications
Deepmala Singh, Deeksha Rajput and Sriram Kanvah
Chem. Commun., 2022, 58, 2413-2429
DOI: 10.1039/D1CC06944F
Feature Article
Cancer diagnosis and analysis devices based on multimolecular crowding
Daisuke Onoshima and Yoshinobu Baba
Chem. Commun., 2021, 57, 13655-13661
DOI: 10.1039/D1CC05556A
 Review
Chemogenetics of cell surface receptors: beyond genetic and pharmacological approaches
Yuta Miura, Akinobu Senoo, Tomohiro Doura and Shigeki Kiyonaka
RSC Chem. Biol., 2022, 3, 269-287
DOI: 10.1039/D1CB00195G
Paper
Versatile naphthalimide tetrazines for fluorogenic bioorthogonal labelling
Marcus E. Graziotto, Liam D. Adair, Amandeep Kaur, Pauline Vérité, Sarah R. Ball, Margaret Sunde, Denis Jacquemin and Elizabeth J. New
RSC Chem. Biol., 2021, 2, 1491-1498
DOI: 10.1039/D1CB00128K
We hope you enjoy reading these articles!
---
Contact us:  chembio-rsc@rsc.org
Visit our website – rsc.li/rsc-chembio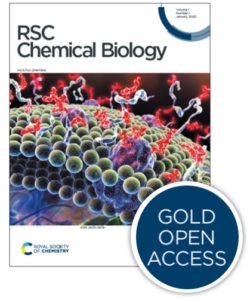 RSC Chemical Biology is an international gold open access journal, publishing exceptionally significant findings in chemical biology.
Sign up now to get updates on all articles as they are published on Twitter and in our e-alerts.