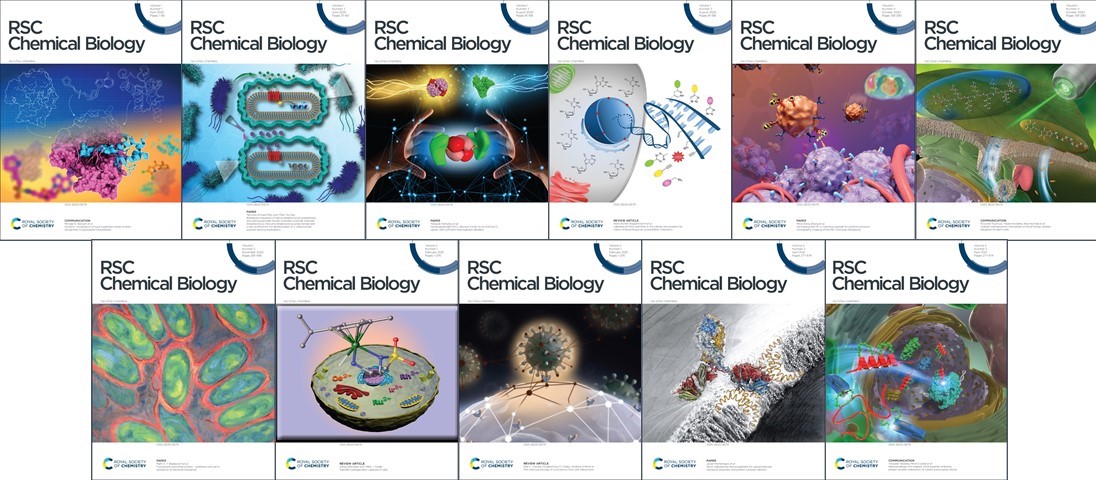 This month we are celebrating our fantastic first year of RSC Chemical Biology!  We have seen six issues, containing 56 high quality articles, and two editorials.
We have chosen some of our favourite covers from all the wonderful artwork that has featured on the journal so far.  Thank you to all the authors who have provided these amazing artworks!
We invite you to join us on Twitter to vote for your favourite cover of the year from the shortlist below.
Click on each of the images for a close-up look of each cover.
A

Vol. 1, Issue 1

Dynamic visualization of type II peptidyl carrier protein recognition in pyoluteorin biosynthesis
Joshua C. Corpuz, Larissa M. Podust, Tony D. Davis, Matt J. Jaremko and Michael D. Burkart
RSC Chem. Biol., 2020,1, 8-12; DOI: 10.1039/C9CB00015A

B

Vol. 1, Issue 3 Inside cover

Labelling of DNA and RNA in the cellular environment by means of bioorthogonal cycloaddition chemistry
Dorothée Ganz, Dennis Harijan and Hans-Achim Wagenknecht
RSC Chem. Biol., 2020,1, 86-97; DOI: 10.1039/D0CB00047G

C

Vol. 1, Issue 5

Fluorescent macrolide probes – synthesis and use in evaluation of bacterial resistance
M. Rhia L. Stone, Urszula Łapińska, Stefano Pagliara, Muriel Masi, Joanne T. Blanchfield, Matthew A. Cooper and Mark A. T. Blaskovich
RSC Chem. Biol., 2020,1, 395-404; DOI: 10.1039/D0CB00118J

D

Vol. 2, Issue 2

Short oligoalanine helical peptides for supramolecular nanopore assembly and protein cytosolic delivery
Marta Pazo, Giulia Salluce, Irene Lostalé-Seijo, Marisa Juanes, Francisco Gonzalez, Rebeca Garcia-Fandiño and Javier Montenegro
RSC Chem. Biol., 2021,2, 503-512; DOI: 10.1039/D0CB00103A