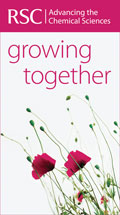 We'll be in Anaheim this month for the ACS Spring 2011 National Meeting and Exposition – and we'd love to meet you. Visit Booth 903 to find out how we are working with you and your communities to enhance the chemical sciences worldwide. And there are lots of prizes to be won each day, including T-shirts, baseball caps and games.
At our booth you can:
Hear the very latest journal news and search the RSC Publishing platform
Pick up a copy of the first issue of Catalysis Science & Technology, our new journal focusing on all fundamental science and technological aspects of catalysis
See the faces behind Chemical Science – and read a sample of the first 100 articles printed in our special conference collection
Try ChemSpider, the multiple award-winning, chemical structure-based search engine providing free access to more than 25 million chemical structures.
Browse our books, all with a show discount of 20%
Investigate our new Water Specialists' Package of nine books – you can save 35% on the individual purchase price of these best-selling books
While at the booth, you can also: discover International Year of Chemistry 2011 activities; connect with MyRSC, the professional network for the chemical sciences; find details of our extensive conference programme, including Challenges in Renewable Energy, the fourth International Symposium on Advancing the Chemical Sciences (ISACS4), coming to Boston in July; and subscribe to Chemistry World at a specially reduced rate.
Plus, here are some events for your diary:
Monday 28th March
 
 
RSC ChemSpider as an environment for teaching and sharing chemistry (Antony Williams, ChemSpider, RSC)
09.45
Room Trillium B, Disney's Grand Californian Hotel
Wiki resources for chemical education
(Prof Martin A Walker, SUNY Potsdam and RSC Teacher Fellow)
10.25
Room Trillium B, Disney's Grand Californian Hotel
Hosting a compound centric community resource for chemistry data  (Antony Williams, ChemSpider, RSC)
15.05
Room 204A
Tuesday 29th March
 
 
How the web has weaved a web of interlinked chemistry data
(Antony Williams, ChemSpider, RSC)
15.00
Room 204A
RSC Publishing journal reception
(invited guests only)
18.00-20.00
Anaheim Marriott
Wednesday 30th March
 
 
ChemSpider training
08.30-11.00
Room 211A
(All events take place in the Anaheim Convention Center, unless otherwise stated.)
 See you in Anaheim!