Nanoscale is delighted to present its current issue.
Strong localized surface plasmon resonance effects of Ag/TiO 2 core–shell nanowire arrays in UV and visible light for photocatalytic activity is the article highlighted on the outside front cover by Hyeonjin Eom, Joo-Yun Jung, Yosep Shin, Sarah Kim, Jun-Hyuk Choi, Eungsug Lee, Jun-Ho Jeong and Inkyu Park.
The inside front cover features an article on Photocatalysts with internal electric fields by Li Li, Paul A. Salvador and Gregory S. Rohrer.
Issue 1 contains the following Review and Feature articles:
Semicondutor quantum dots-based metal ion probes
Peng Wu, Ting Zhao, Shanling Wang and Xiandeng Hou
Polymeric nanotherapeutics: clinical development and advances in stealth functionalization strategies
Che-Ming J. Hu, Ronnie H. Fang, Brian T. Luk and Liangfang Zhang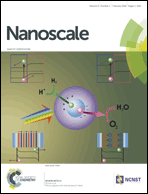 Rice- and butterfly-wing effect inspired self-cleaning and low drag micro/nanopatterned surfaces in water, oil, and air flow
Gregory D. Bixler and Bharat Bhushan
Tailoring photocatalytic nanostructures for sustainable hydrogen production
Matteo Cargnello and Benjamin T. Diroll
Polymer-directed synthesis of metal oxide-containing nanomaterials for electrochemical energy storage
Yiyong Mai, Fan Zhang and Xinliang Feng