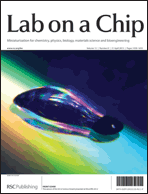 As highlighted on the outside front cover, physicists, engineers and chemists at the University of Illinois , USA, describe a new laser-based label-free resonant optical biosensor with high resolution and high sensitivity. The difference with this sensor is that they use a photonic crystal resonant reflector surface to introduce optical gain to the sensor from an external source via simulated emission. All of our cover articles are free to access for 6 weeks,* so you can read the full work now:
External cavity laser biosensor
Chun Ge, Meng Lu, Sherine George, Timothy A. Flood, Clark Wagner, Jie Zheng, Anusha Pokhriyal, J. Gary Eden, Paul J. Hergenrother and Brian T. Cunningham
DOI: 10.1039/C3LC41330F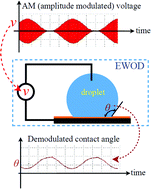 On the inside front cover, researchers at California Institute of Technology, USA, and LeukoDx Inc., Israel, present a point-of-care test for leukocyte counting using a microflow cytometer and fluorescent dye. This method eliminated excessive dilution and sheath flow, giving a minimal needed sample volume.
Four-part leukocyte differential count based on sheathless microflow cytometer and fluorescent dye assay
Wendian Shi, Luke Guo, Harvey Kasdan and Yu-Chong Tai
DOI: 10.1039/C3LC41059E
Work from Tino Frank and Savaş Tay at ETH Zurich is featured on the inside back cover. To improve studies of cell signalling in vitro, this article introduces a simple cell culture platform that can produce programmable diffusion-based gradients using microfluidics based on modifying flow over time. Read it here:
Flow-switching allows independently programmable, extremely stable, high-throughput diffusion-based gradients
Tino Frank and Savaş Tay
DOI: 10.1039/C3LC41076E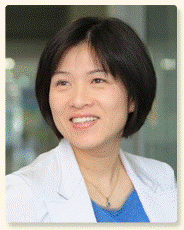 The outside back cover highlights the work of Sung Gap Im at KAIST, South Korea. This article is about a doubly cross-linked nano-adhesive system (DCNA) and the team demonstrate fabrication of microfluidic devices with flexible and rigid substrates with high strength and stability. The flexible devices could be manipulated without delamination occurring.
A doubly cross-linked nano-adhesive for the reliable sealing of flexible microfluidic devices
Jae Bem You, Kyoung-Ik Min, Bora Lee, Dong-Pyo Kim and Sung Gap Im
DOI: 10.1039/C2LC41266G
In addition to the primary microfluidics research and high number of HOT articles in issue 7, there are also three critical reviews:
Microfabricated mammalian organ systems and their integration into models of whole animals and humans
Jong H. Sung, Mandy B. Esch, Jean-Matthieu Prot, Christopher J. Long, Alec Smith, James J. Hickman and Michael L. Shuler
DOI: 10.1039/C3LC41017J
Thinking big by thinking small: application of microfluidic technology to improve ART
J. E. Swain, D. Lai, S. Takayama and G. D. Smith
DOI: 10.1039/C3LC41290C
Nucleic acid amplification using microfluidic systems
Chen-Min Chang, Wen-Hsin Chang, Chih-Hung Wang, Jung-Hao Wang, John D. Mai and Gwo-Bin Lee
DOI: 10.1039/C3LC41097H
*Free access to individuals is provided through an RSC Publishing personal account. Registration is quick, free and simple