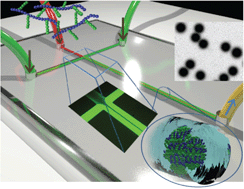 A team in Switzerland and Iran led by Philippe Renaud at the Ecole Polytechnique Federale de Lausanne (EPFL), Switzerland, combine a microfluidic chip with hydrophobic modification of chitosan to produce monodisperse and well-defined chitosan nanoparticles capable of delivering hydrophobic anticancer drugs.
Chitosan is known for its biological properties, but is hydrophilic and must be modified to carry hydrophobic drugs. In this work, this is done using N-palmitoyl groups. A microfluidic method of making nanoparticles enables a number of parameters, such as flow ratio and mixing time, to be very finely tuned. This results in precise production of nanoparticles with the required properties.
This article demonstrates fine-tuning of hydrophobically-modified chitosan using a T-shaped PDMS microfluidic device.  For example, the self-assembly is triggered by a pH of 7.4 and this is controlled by tuning the mixing time. The researchers go on to demonstrate that their nanoparticles can encapsulate both hydrophobic and hydrophilic drugs with a sustainable release profile.
This fine-tuning approach will be applicable to production of other polymeric nanoparticles for nanomedicine. Read this communication, free to access for the next 4 weeks*, in full:
Microfluidic assisted self-assembly of chitosan based nanoparticles as drug delivery agents
Fatemeh Sadat Majedi, Mohammad Mahdi Hasani-Sadrabadi, Shahriar Hojjati Emami, Mohammad Ali Shokrgozar, Jules John VanDersarl, Erfan Dashtimoghadam, Arnaud Bertsch and Philippe Renaud
DOI: 10.1039/C2LC41045A
*Free access to individuals is provided through an RSC Publishing personal account. Registration is quick, free and simple