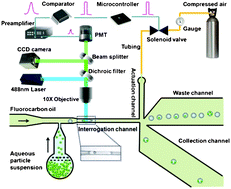 Droplet microfluidics has recently been used for encapsulating a number of different objects, including cells and microbeads. This enables analysis, detection and screening of the encapsulated material. The control of encapsulation to get droplets containing an equal number of particles is important, as often a researcher may need singly occupied droplets, but some of the resulting droplets may be empty or have one or more particles inside with current techniques.
Sorting by particle number would therefore be very helpful for isolating the needed droplets. For larger droplets, sorting by size doesn't work as they remain the same size whether empty or encapsulating a particle. Fluorescence intensity is also often used as the basis for droplet sorting. However no technique currently sorts by particle number alone.
In this HOT article, collaborators in the USA and China led by Chang Lu develop a one-layer microfluidic device that sorts droplets based on number of particles.  It enables production of droplets with even number of encapsulated particles and the analysis of droplets with mixed particle numbers. It can sort up to 30 droplets a second very specifically. The droplets flow through a narrow channel and in this they are detected one-by-one by laser-induced fluorescence. A microcontroller uses this signal to make the sorting decision and a solenoid valve deflects the droplets into either waste or the collection channel. The microcontroller makes the decision based on the time interval between two travelling particles – if there are two particles in one droplet, the interval is smaller than the time taken for the droplet to pass through. It also counts the number of particles in one droplet.
This article free to access for the next 4 weeks* as with all of our HOT articles, so you can have a read and closer look at the technical diagrams by clicking on the link below:
Droplet sorting based on the number of encapsulated particles using a solenoid valve
Zhenning Cao, Fangyuan Chen, Ning Bao, Huacheng He, Peisheng Xu, Saikat Jana, Sunghwan Jung, Hongzhen Lian and Chang Lu
DOI: 10.1039/C2LC40950J
 *Free access to individuals is provided through an RSC Publishing personal account. Registration is quick, free and simple