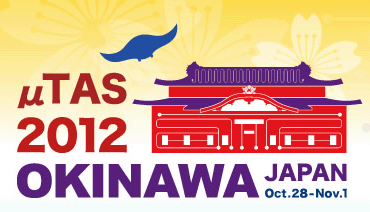 This year's MicroTAS conference was held in October, at the Okinawa Convention Center in Okinawa, Japan.
As in previous years, Harp Minhas, Editor of Lab on a Chip, was in attendance at the conference to announce the prestigious Lab on a Chip awards, which include the Pioneers of Miniaturisation Lectureship (supported by Corning Inc), the Widmer Young Researcher Poster Prize, and the Art in Science Award (co-sponsored by NIST).
The Widmer Young Researcher Poster Prize
This year's winner of the Widmer Young Researcher Poster Prize was Klaus Eyer from Professor Petra Dittrich's lab at ETH Zürich, with his poster entitled 'Single Cell ELISA'.
Art in Science Award
The Art in Science Award is given each year "to draw attention to the aesthetic value in scientific illustrations while still conveying scientific merit." This year's award was presented to Yi Zhang, a PhD student from the Department of Biomedical Engineering, Johns Hopkins University School of Medicine, USA.
The image, entitled 'Stretching the Rainbow', shows a droplet with multiple rainbow stripes being stretched by the magnetic particle on a surface energy traps (SETs)-enabled magnetic digital microfluidic platform. In this particular scenario, the droplet is immobilized by the SET while the magnetic particles are trying to split from the droplet. The rainbow is the natural colour resulting from the diffraction pattern caused by a DVD disc, on which the droplet sits.
Pioneers of Miniaturisation Lectureship
The Pioneers of Miniaturisation Lectureship recognises outstanding achievements and significant contributions to the understanding and advancement of micro- and nano-scale science. This year, the Lectureship was awarded to Professor Andrew deMello at ETH Zurich, Switzerland. Among his many achievements and awards, Andrew first demonstrated combinatorial chemistry and controlled nanoparticle synthesis in continuous flow microfluidic devices; co-authored the first demonstration of continuous flow PCR, which has over 750 citations to date; pioneered the application of high-contract fluorescence lifetime imaging to microfluidic environments; founded Molecular Vision Ltd, an in vitro diagnostic company, providing point of care tests for cardiovascular and kidney disease; and has published over 40 articles on droplet-based microfluidics since 2007.
Please join us at Lab on a Chip in congratulating all of our prize winners!