Siva Vanapalli and colleagues at Texas Tech University have developed a one-step passive strategy to create concentration gradients in static droplet arrays. Their recent Lab on a Chip article has been reported in PhysOrg.com, which discusses the implications of the technology for the future of drug testing.
Read the PhysOrg.com article here, or read the Lab on a Chip paper:
Microfluidic static droplet arrays with tuneable gradients in material composition
Meng Sun, Swastika S. Bithi and Siva A. Vanapalli
DOI: 10.1039/C1LC20709A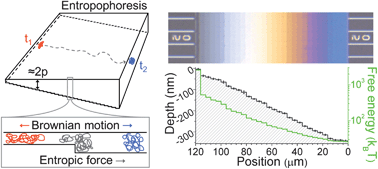 Samuel Stavis and colleagues at the National Institute of Standards and Technology (NIST) have developed a nanoscale fluidic channel shaped like a staircase, which can be used to control the direction of drift of a DNA molecule through a fluid. An article in Nanotechnology Now discusses how this 'nanoslinky' presents new possibilities for manipulating and measuring DNA.
Read the article in Nanotechnology Now, or read the Lab on a Chip paper:
DNA molecules descending a nanofluidic staircase by entropophoresis
Samuel M. Stavis, Jon Geist, Michael Gaitan, Laurie E. Locascio and Elizabeth A. Strychalski
DOI: 10.1039/C2LC21152A