Broadband cavity-enhanced absorption spectroscopy has been used to increase the effective optical pathlengths in optical detection applied to microfluidic systems.  The BBCEAS method was capable of in situ analyte detection quickly (273 Hz/3.66 ms acquisition time) and with high sensitivity (αmin < 10−2 cm−1).
Broadband cavity-enhanced absorption spectroscopy for real time, in situ spectral analysis of microfluidic droplets
Simon R. T. Neil, Cathy M. Rushworth, Claire Vallance and Stuart R. Mackenzie
DOI: 10.1039/C1LC20854C
---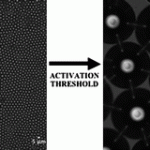 The production of clinical-scale quantities of droplet emulsions for
in vivo
therapy uses, such as gas embolotherapy, has been achieved by researchers from the universities of California and North Carolina.  Highly monodisperse liquid perfluoropentane droplets in the 3–6 μm range necessary for clinical phase-change droplets were produced at rates exceeding 10
5
droplets per second.
High-speed, clinical-scale microfluidic generation of stable phase-change droplets for gas embolotherapy
David Bardin, Thomas D. Martz, Paul S. Sheeran, Roger Shih, Paul A. Dayton and Abraham P. Lee
DOI: 10.1039/C1LC20615J
---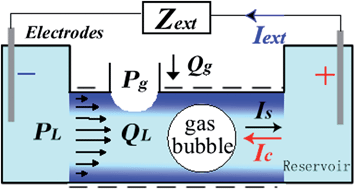 The power generated by streaming potential from multiphase flow has been improved by the use of two phase flow in a microscale system.  A two phase microfluidic system, which converts mechanical energy to electrical energy, was devised and the addition of bubbles to the device produced a significant increase in the power and energy conversion over a single phase system.
Strong enhancement of streaming current power by application of two phase flow
Yanbo Xie, John D. Sherwood, Lingling Shui, Albert van den Berg and Jan C. T. Eijkel
DOI: 10.1039/C1LC20423H