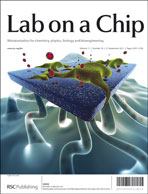 On the cover this month are two hot articles from Nicholas A. Melosh et al. and Malancha Gupta et al, and both articles are free to download for the next 6 weeks.
Nicholas Melosh's article on the outside front cover depicts their method for controlled chemical delivery in microfluidic cell culture devices without fluid flow over the cells, thereby avoiding the problem of cell perturbation.
Rapid spatial and temporal controlled signal delivery over large cell culture areas
Jules J. VanDersarl, Alexander M. Xu and Nicholas A. Melosh
Lab Chip, 2011, 11, 3057-3063
DOI: 10.1039/C1LC20311H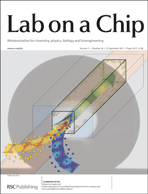 On the inside front cover, the image from Malancha Gupta highlights a vapour deposition method to line the surfaces of PDMS microfluidic devices with a cross-linked fluoropolymer barrier coating, which significantly increases the chemical compatibility of the devices.
Vapor deposition of cross-linked fluoropolymer barrier coatings onto pre-assembled microfluidic devices
Carson T. Riche, Brandon C. Marin, Noah Malmstadt and Malancha Gupta
Lab Chip, 2011, 11, 3049-3052
DOI: 10.1039/C1LC20396G
For the rest of the issue, including hot articles see here