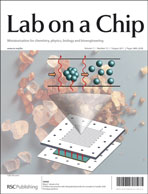 On the front cover of Issue 15 we have a HOT article from Klavs Jensen and colleagues at MIT on a Teflon stack microreactor with a piezoelectric actuator.  The microreactor has been developed to handle syntheses that are prone to clogging – such as palladium-catalyzed C–N cross-coupling reactions which form insoluble salts as by-products.
A Teflon microreactor with integrated piezoelectric actuator to handle solid forming reactions
Simon Kuhn, Timothy Noël, Lei Gu, Patrick L. Heider and Klavs F. Jensen
Lab Chip, 2011, 11, 2488-2492
DOI: 10.1039/C1LC20337A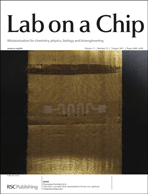 On the inside front cover is another HOT article from Dhananjaya Dendukuri and colleagues at Achira Labs Pvt. Ltd., India who have constructed a scalable microfluidic device by weaving silk to form a fabric chip.
'Fab-Chips': a versatile, fabric-based platform for low-cost, rapid and multiplexed diagnostics
Paridhi Bhandari, Tanya Narahari and Dhananjaya Dendukuri
Lab Chip, 2011, 11, 2493-2499
DOI: 10.1039/C1LC20373H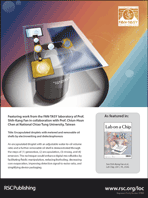 And finally the back cover features an article from Shih-Kang Fan and Chiun-Hsun Chen demonstrating a parallel-plate device capable of generating water-core and oil-shell encapsulated droplets and subsequent removal of the oil shells.
Encapsulated droplets with metered and removable oil shells by electrowetting and dielectrophoresis
Shih-Kang Fan, Yao-Wen Hsu and Chiun-Hsun Chen
Lab Chip, 2011, 11, 2500-2508
DOI: 10.1039/C1LC20142E
View the rest of the issue online here