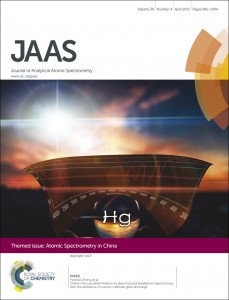 Will you be joining us in Xiamen later this month?
If so, on behalf of the organisers and JAAS Editorial Board, we would like to invite you to submit an article for a themed issue in JAAS, on your work presented at the conference.
The submission deadline for the issue will be 15th July 2015. Accepted papers will be published online as advanced articles as soon as they are ready. The issue will be published online and in print in early 2016. All authors will receive a PDF of their article and a print copy of this issue when it is published. There will be no upper limit on the number of papers published in the themed issue.
We welcome the submission of communications, full papers and technical notes for consideration in the issue, and all articles will be subject to the usual high standards of the journal through peer-review. If you are interested in writing a review article for the issue, then please do not hesitate to contact me by email. We will also have a JAAS 30th Anniversary Event on the Friday night, so please do come and speak to me!
Articles should be submitted through the JAAS website, and we kindly ask all authors to indicate in their covering letter that their article is for consideration in the APWC 2015 issue. Further details about what we have to look forward to can be found on the conference website.
2015 Asia-Pacific Winter Conference (2015 APWC), Xiamen, China
May 19-22, 2015
Take a look at some of the papers published in the themed issue from the 2012 Asia Pacific Winter Conference, held in Jeju Island, South Korea