The latest electronic issue for JAAS has now been published online for you to take a look at. In this month's issue we have two very eye-catching covers as well as an additional HOT article for you to read.
From Venezuela, José Chirinos at the Universidad Central de Venezuela, and colleagues have been using a novel method to prepare crude oil samples for analysis. By encapsulating the samples in xerogel, they avoid splashing effects of the crude oil. Their colourful image appears on the outside front cover.
Use of xerogels for the elemental analysis of crude oils by laser ablation inductively coupled plasma high resolution mass spectrometry
Mauro Martínez, Carine Arnaudguilhem, Ryszard Lobinski, Brice Bouyssiere, Manuel Caetano and José Chirinos
J. Anal. At. Spectrom., 2012, 27, 1007-1011
DOI: 10.1039/C2JA00005A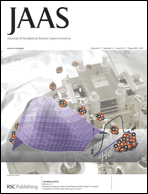 On the inside front cover we have an image from a HOT paper from a team working in France. Jennifer Mabry and colleagues from the CRPG-CNRS, specializing in petrology and geochemistry, have been mapping changes in helium sensitivity and peak shape. This has been achieved by tuning a Nier-type ion source which involves adjusting many different parameters, such as the total extraction voltage, the half-plate bias, the repeller voltage, and the electron energy.
Mapping changes in helium sensitivity and peak shape for varying parameters of a Nier-type noble gas ion source
Jennifer Mabry, Peter Burnard, Pierre-Henri Blard and Laurent Zimmermann
J. Anal. At. Spectrom., 2012, 27, 1012-1017
DOI: 10.1039/C2JA10339G
In this June issue we also have an additional HOT article for you to read.
Michael Okruss and co-workers from Leibniz-Institut für Analytische Wissenschaften, Berlin, Germany, have used graphite tubes with internal diameters of 1 mm, 1.5 mm and 2 mm (mini tubes) in high resolution continuum source graphite furnace atomic absorption spectrometry (HR-CS GF AAS). The use of these mini tubes allows high absolute sensitivity and ultra-trace analysis of small samples. Click on the title below to read more!
Graphite tubes with small internal diameters tailored for high-resolution continuum source graphite furnace atomic absorption spectrometry
Mao Dong Huang, Helmut Becker-Ross, Michael Okruss, Sebastian Geisler and Stefan Florek
J. Anal. At. Spectrom., 2012, 27, 982-988
DOI: 10.1039/C2JA30057E