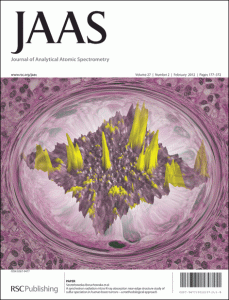 Issue 2 of JAAS for 2012 is now online!
The front cover this month features work by Magdalena Szczerbowska-Boruchowska and colleagues from the AGH University of Science and Technology and Jagiellonian University, Poland.  They present a synchroton radiation micro-X-ray absorption near edge structure study of sulfur speciation in human brain tumor cells.  The authors looked at both the experimental and methodological aspects of 2D imaging of sulfur species in tumor cells, and developed procedures to eliminate disrupting effects in the imaging distribution.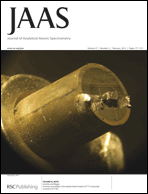 The inside front cover highlights work by Michael Krachler and Detlef  Wegen from the European Commission-Joint Research Centre in Germany, on the promises and pitfalls in the reliable determination of 233U using high resolution ICP-OES.  They show that the current analytical approach for determining 233U at λ = 385.950 nm is not specific to that particular uranium isotope for reliable quantification.  The authors show instead that analysis at λ = 411.585 nm is potentially a better option for reliable determination of 223U using HR-ICP-OES.
This issue of JAAS also features…
…the Atomic Spectroscopy Update by Owen Butler and colleagues – the 27th annual review of the application of atomic spectrometry to the chemical analysis of environmental samples:
Atomic spectrometry update. Environmental analysis, Owen T. Butler, Warren R. L. Cairns, Jennifer M. Cook and Christine M. Davidson, J. Anal. At. Spectrom., 2012, 27, 187-221
…and the following hot articles…
Theoretical calculations of the influence of resonant Raman scattering on the quantification of XRF spectrochemical analysis, Héctor Jorge Sánchez, María Cecilia Valentinuzzi and Juan José Leani, J. Anal. At. Spectrom., 2012, 27, 232-238
Reference-free quantification of particle-like surface contaminations by grazing incidence X-ray fluorescence analysis, Falk Reinhardt, János Osán, Szabina Török, Andrea Edit Pap, Michael Kolbe and Burkhard Beckhoff, J. Anal. At. Spectrom., 2012, 27, 248-255
All these articles are free to access until the 20th February 2012, so why not take a look!