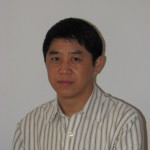 JAAS Editorial Board member Professor Shan Gao of China University of Geosciences (Wuhan) has been elected academician of the Chinese Academy of Sciences.
Chinese Academy of Sciences (CAS) was founded in 1949; it is a leading academic institution and comprehensive research and development center in natural science, technological science and high-tech innovation in China.
Congratulations Professor Gao!
Read Prof. Gao's editorial on the development of atomic spectrometry in China:
Editorial: The rise of atomic spectrometry in China over the past 25 years
Shan Gao
J. Anal. At. Spectrom., 2010, 25, 1803-1807
DOI: 10.1039/C0JA00045K
You may also be interested in this:
Technical Note: Contrasting matrix induced elemental fractionation in NIST SRM and rock glasses during laser ablation ICP-MS analysis at high spatial resolution
Zhaochu Hu, Yongsheng Liu, Lu Chen, Lian Zhou, Ming Li, Keqing Zong, Lvyun Zhu and Shan Gao
J. Anal. At. Spectrom., 2011, 26, 425-430
DOI: 10.1039/C0JA00145G