We may be a few weeks away from the New Year, but JAAS has an early present for you: the first issue of 2012, which is now online.
We are looking forward to another successful year publishing the best research related to analytical atomic spectrometry, and begin with some excellent cover articles.
Our celestial front cover features work from Martin Schiller, Chad Paton and Martin Bizzarro from the Centre for Star and Planet Formation, which is based within the Natural History Museum of Denmark at the University of Copenhagen.
They present a novel approach for the chemical purification of calcium from silicate rocks by ion-exchange chromatography, and a highly-precise method for its isotopic analysis.  By using high-resolution multiple collector inductively coupled plasma source mass spectrometry (HR-MC-ICPMS) in combination with thermal ionization mass spectrometry (TIMS), they have even tackled the smallest isotope 46Ca, which has an abundance of just 0.003 %
The resolution of their data shows significant improvement compared to previous methods, which allows for a better understanding of the mass fractionation laws responsible for the mass-dependent fractionation of Ca present in natural samples and synthetic standards.
Their work also provides insight into a better reference material to study the calcium isotope composition of terrestrial and non-terrestrial materials.
We highlighted this work when it was first published as an Advance Article, and are delighted to feature it on the front cover of this issue!
Calcium isotope measurement by combined HR-MC-ICPMS and TIMS
Martin Schiller, Chad Paton and Martin Bizzarro
J. Anal. At. Spectrom., 2012, 27, 38-49
DOI: 10.1039/C1JA10272A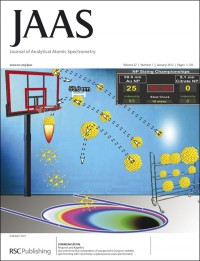 Featured on the inside front cover, work from Efthymios Kapellios and Spiros Pergantis of the University of Crete, Greece.
They provide the first demonstration of the combined use of nanoelectrospray ion mobility spectrometry (IMS) with off-line inductively coupled plasma mass spectrometry (ICP-MS) for determining engineered nanoparticles in aqueous solution.
Coupling the resolving power of IMS with the sensitivity of ICP-MS, make this an attractive approach for nanoparticle analysis.  The technique shows capabilities to determine size and metal content, and could, in principle, be used to determine nanoparticle concentration.
Communication: Size and elemental composition of nanoparticles using ion mobility spectrometry with inductively coupled plasma mass spectrometry
Efthymios A. Kapellios and Spiros A. Pergantis
J. Anal. At. Spectrom., 2012, 27, 21-24
DOI: 10.1039/C1JA10237K
Don't forget these cover articles will be free to access for 6 weeks, so enjoy them and let your colleagues know.