JAAS Advisory Board member Sabine Becker has been named as the recipient of the 2012 Winter Conference Award in Plasma Spectrochemistry.
The award honours scientists who have made the most noteworthy contributions to the field of plasma spectrochemistry, and will be presented to to Dr Becker during the 2012 Winter Conference on Plasma Spectrochemistry to be held in Tucson, Arizona, USA, 9-24 January 2012.  Congratulations Sabine!
Editor of JAAS, Dr May Copsey, will be attending the conference and would be delighted to meet you there.
In the meantime, take a look at some of Dr Becker's recent work: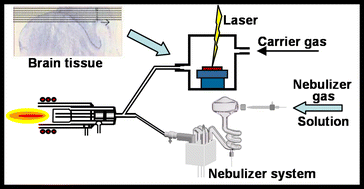 Bioimaging of metals in thin mouse brain section by laser ablation inductively coupled plasma mass spectrometry: novel online quantification strategy using aqueous standards
Dirce Pozebon, Valderi L. Dressler, Marcia Foster Mesko, Andreas Matusch and J. Sabine Becker
J. Anal. At. Spectrom., 2010, 25, 1739-1744
DOI: 10.1039/C0JA00055H
Mass spectrometric imaging of elements in biological tissues by new BrainMet technique—laser microdissection inductively coupled plasma mass spectrometry (LMD-ICP-MS)
Bei Wu, Stefan Niehren and J. Sabine Becker
J. Anal. At. Spectrom., 2011, 26, 1653-1659
DOI: 10.1039/C1JA10106D