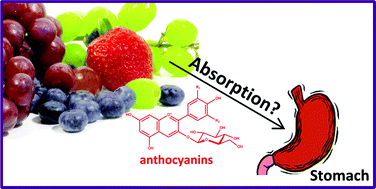 Scientists from Portugal have studied how anthocyanins are absorbed in the stomach using an in vitro model. Anthocyanins are flavonoid compounds which can be found in blueberries, raspberries and blackcurrants, but their bioavailability is difficult to assess because they exist as different structures in equilibrium depending on pH.
The stomach is often ignored as a metabolizing organ although it has been identified as a site of absorption for different compounds. In this work, adenocarcinoma stomach cells (MKN-28) as a model of the gastric barrier was used to investigate the absorption and metabolism of anthocyanins. The results show that anthocyanins can cross MKN-28 cells in a time dependent manner via a saturable transport mechanism. Also the succesful use of the MKN-28 cell line as a model for gastric digestion could be implemented for other screening procedures and in turn give new insight on bioavailability.
Click the link below to read the article in full. Free to access until April 10th:
A new approach on the gastric absorption of anthocyanins
Iva Fernandes, Victor de Freitas, Celso Reis and Nuno Mateus
Food Funct., 2012, DOI: 10.1039/c2fo10295a
You may also be interested in the article below which is also free to access:
Development of a simple model device for in vitro gastric digestion investigation
Jianshe Chen, Vishwajeet Gaikwad, Melvin Holmes, Brent Murray, Malcolm Povey, Ye Wang and Ying Zhang
Food Funct., 2011, 2, 174-182, DOI: 10.1039/C0FO00159G
You can keep up to date with the latest developments from Food & Function by signing up for free table of contents alerts and monthly e-newsletters.