We invite you to join us at Temporally and Spatially Resolved Molecular Science: Faraday Discussion 177, which will be held at the Indian Institute of Science, Bangalore, India from 12-14 January 2015.
This discussion will bring together crystallographers and spectroscopists from chemistry, physics and biology to promote new interdisciplinary research and to benefit from complementary approaches and techniques in the rapidly emerging areas of 'time resolved studies', leading to a greater overall understanding of structural dynamics. Discussion themes include:
• Dynamics of the Chemical Bond
• Time and Space Resolved Methods
• Local and Global Dynamics
• Future Challenges and Emerging Techniques
Submit your abstract today via our submission system.
The deadline for oral abstracts is 21st April 2014
Confirmed invited speakers:
• Elagannan Arunan, Indian Institute of Science, India
• Godfrey Beddard, University of Leeds, UK
• Volker Deckert, Jena University, Germany
• Jonathan Hirst, University of Nottingham, UK
• Wolfgang Junge, University of Osnabruck, Germany
• R. J. Dwayne Miller, Max Planck Unit for Structural Dynamics at the University of Hamburg, Germany
• Shaul Mukamel, University of California, USA
• Paul Raithby, University of Bath ,UK
In addition there will be a discussion meeting, entitled 'Advances in Structure and Dynamics' held directly after the Faraday Discussion in Bangalore on 15 – 16 January 2015. More information will be available on the website in due course.
---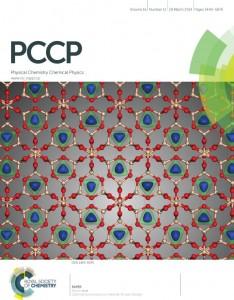 You may be interested in these articles in the area of temporally and spatially resolved molecular science, recently published in Physical Chemistry Chemical Physics (PCCP). A sister journal to Faraday Discussions, PCCP brings you content of the highest quality in physical chemistry, chemical physics and biophysical chemistry.
Probing structural evolution along multidimensional reaction coordinates with femtosecond stimulated Raman spectroscopy
Renee R. Frontiera, Chong Fang, Jyotishman Dasgupta and Richard A. Mathies
DOI: 10.1039/C1CP22767J, Perspective
Ultrafast time resolved studies of the photochemistry of acyl and sulfonyl azides
Jacek Kubicki, Yunlong Zhang, Jiadan Xue, Hoi Ling Luk and Matthew Platz
DOI: 10.1039/C2CP40226B, Perspective

Chemistry in solution: recent techniques and applications using soft X-ray spectroscopy
Kathrin M. Lange, Alexander Kothe and Emad F. Aziz
DOI: 10.1039/C2CP24028A, Perspective
Ultrafast UV spectroscopy: from a local to a global view of dynamical processes in macromolecules
Andrea Cannizzo
DOI: 10.1039/C2CP40567A, Perspective
---
We hope you can join us for
Temporally and Spatially Resolved Molecular Science: Faraday Discussion 177
. Professor Siva Umapathy and the rest of the Scientific Committee look forward to welcoming you and your colleagues to Bangalore.