The Royal Society of Chemistry has awarded a National Chemical Landmark blue plaque to the University of Oxford Inorganic Chemistry Laboratory, to celebrate the 50th anniversary of Britain's first female Nobel Prize winner.
Chief Executive of the Royal Society of Chemistry, Dr Robert Parker, spoke at the plaque presentation and said: "I am delighted to be here again, to honour and celebrate the work of Dorothy Crowfoot Hodgkin.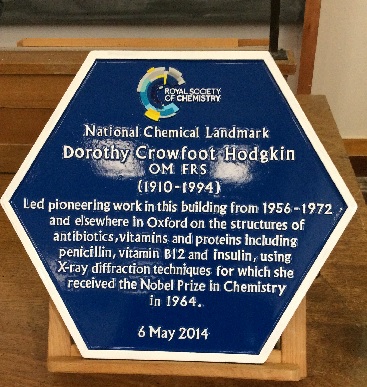 "It has been 50 years since she received the Nobel Prize in Chemistry, and so I am delighted to mark the occasion by awarding a new plaque, one that will inspire those that read its message and demonstrate the valuable work that takes place here at the Inorganic Chemistry Laboratory, in Oxford."
Dorothy Hodgkin won the Nobel Prize "for her determinations by X-ray techniques of the structures of important biochemical substances".
Amongst her most significant discoveries are the confirmation of the three-dimensional structures of penicillin, Vitamin B12 and insulin.
An award symposium to mark the presentation saw Professors Susan Lea , Paul Raithby and Andrew Goodwin discussing their work in the field of crystallography, and how the field has changed in the 50 years since Hodgkin's Nobel Prize.
The audience included Professor Philip Mountford, Head of Inorganic Chemistry and Chair of the Dalton Transactions Editorial Board, as well as some of Dorothy's former students and those they have gone on to teach
2014 is International year of Crystallography and the events at Oxford's Inorganic Chemistry Laboratory form part of the year-long celebration.