Almost ten years ago, Piers et al. described how frustrated aminoboranes could be used to activate molecular hydrogen by exploiting their frustrated Lewis pairs.  Unfortunately the ansa-aminoborane they investigated proved incapable of activating H2, and so this contribution was very much overlooked in the ongoing search for facile H2 activation.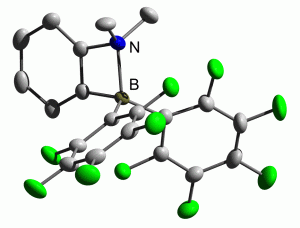 A frustrated Lewis pair, in this case, is a molecule that contains a Lewis acid group and a Lewis base group kept apart due to sterics.  Such compounds are, perhaps unsurprisingly, very reactive.  The most important practical application of FLPs is most likely to be the catalysed hydrogenation of polar double bonds under ambient conditions.
The Repo group at the University of Helsinki describe how they have overcome the problems encountered in 2003 to produce two new ansa-aminoboranes which are both capable of activating molecular hydrogen under ambient conditions.  One of their new compounds even shows selective reversible H2 activation at room temperature, providing exciting new developments for FLP catalysis.
Read more about these new catalysts, including why they outperform their predecessors, in this HOT article.
Hydrogen activation by 2-boryl-N,N-dialkylanilines: a revision of Piers' ansa-aminoborane
Konstantin Chernichenko, Martin Nieger, Markku Leskelä and Timo Repo