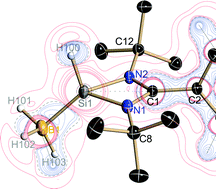 In this Dalton Transactions Hot article, Herbert W. Roesky and Dietmar Stalke and collegues from
Universitat Gottingen, Germany, make a stable silicon(II) monohydride and examine its electronic structure.
Group 14 hydrides are used in synthetic chemistry, and as precursors to make alloys, such as amorphous silicon, that are used in  electronic devices. For this reason the ability to make stable compounds is very desirable, and an understanding of their structure will help develop the field of silicon chemistry.
Read the full article to discover more about this silicon(II) monohydride…
A stable silicon(II) monohydride
Anukul Jana, Dirk Leusser, Ina Objartel, Herbert W. Roesky and Dietmar Stalke
Dalton Trans., 2011, Advance Article
DOI: 10.1039/C0DT01675F, Paper
FREE TO READ until 6th May