In this paper, indium(III), antimony(III) and bismuth(III) dihalide complexes with deprotonated, tridentate thio- and selenosemicarbazone ligands have been fully investigated.
An understanding of the chemistry of the thiosemicarbazonato ligand, which is known for its anti tumour and pharmacological properties, is of high importance, and is of special interest to scientists in the field of organoselenium research.
Read the full manuscript to find out more about Mohr and colleagues latest research on the coordination chemistry of organoselenium compounds. As this work has been selected as a Dalton Transactions Hot article, it will be FREE to access until 5th April.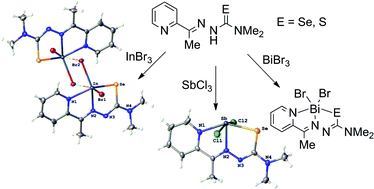 Indium(III), antimony(III) and bismuth(III) dihalide complexes with tridentate, anionic thio- and selenosemicarbazonato ligands
Anja Molter and Fabian Mohr
Dalton Trans., 2011, Advance Article
DOI: 10.1039/C0DT01693D, Paper