Controlling the growth of low dimensional nanostructures of organometallic complexes with well-defined properties is a significant and ongoing challenge within nanoscience and nanotechnology.
Huibiao Liu, Yuliang Li and co-workers, from the CAS Key Laboratory of Organic Solids in Beijing have made inroads into this challenge by controlling the growth of the nanowire–nanotube junctions of a dichloro-bridged dimeric iridium complex optimising the material for use in LEDs.
Find out more in their Dalton Transactions Hot Article FREE to read until 12th January.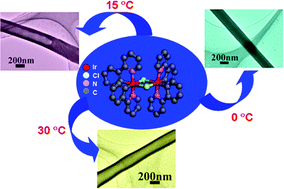 Controlling the growth of low dimension nanostructures of an iridium complex 
Haowei Lin, Huibiao Liu, Xuemin Qian, Canbin Ouyang and Yuliang Li
Dalton Trans., 2011, Advance Article
DOI: 10.1039/C0DT01128B, Paper