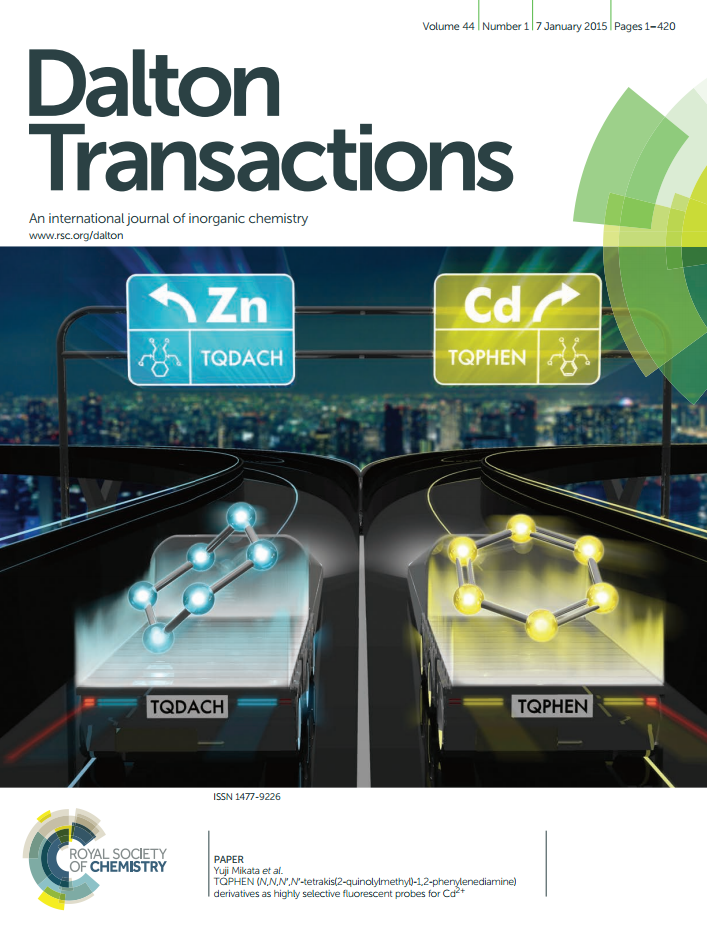 We are delighted to announce four new Dalton Transactions themed issues:
Phosphorus Chemistry: Discoveries and Advances
Guest Editor: Professor Rory Waterman (University of Vermont)
Deadline: 11th August 2015

Flexibility and Disorder in Metal-Organic Frameworks
Guest Editors: Professor Anthony Cheetham (University of Cambridge), Professor Alain Fuchs (CNRS), Dr Thomas Bennett (University of Cambridge) and
Dr François-Xavier Coudert (CNRS & Chimie ParisTech)
Deadline: 8th September 2015

Main Group Transformations
Guest Editors: Professor Doug Stephan (University of Toronto) and Dr Rebecca Melen (Cardiff University)
Deadline: 6th October 2015

New Talent: Americas
Guest Editors: Professor John Arnold (University of California Berkeley), Dr James Boncella (Los Alamos National Laboratory), Professor Pingyun Feng (University of California, Riverside), Dr Tina Nenoff (Sandia National Laboratories), Professor Christine Thomas (Brandeis University)
Deadline: 22nd January 2016
Does your research fit into any of these subject areas? If so, we would welcome your contribution. For further details on issue scopes and on how to submit, see below:
How to submit
All types of manuscript – communications, full papers and Perspectives, will be considered for publication. The manuscript should be prepared according to our article guidelines and submitted via our online system.
All manuscripts will be subject to normal peer review and inclusion in the themed issue will be at the discretion of the Guest Editors. Please indicate in your submission which themed issue you would like to be considered for.
Issue scopes
Phosphorus Chemistry: Discoveries and Advances
The importance of phosphorus in diverse fields such as biomedicine, materials, energy, and catalysis is indisputable. Even as new applications for phosphorus-containing molecules and materials are realized, fundamental discoveries about the preparation, properties, and reactivity of phosphorus-containing compounds are still great advances. The goal of this issue is to showcase the diverse fundamental and applied science associated with phosphorus.
Flexibility and Disorder in Metal-Organic Frameworks
This themed issue will focus on the experimental characterization, fundamental understanding and computational modelling of the flexibility and/or disorder of metal–organic frameworks (MOFs), and other inorganic framework-type materials. It also encompasses the consequences of this flexibility for the proposed applications of MOFs, and the associated possibilities to leverage these properties to design novel materials with targeted properties. Key topics will include the influence of flexibility on the physical and chemical properties of MOFs, fundamental advances in the understanding of the behaviour of stimuli-responsive frameworks and characterization of disordered, defect-containing and amorphous materials.
Main Group Transformations
In recent years we have seen a renaissance in the field of main group chemistry, covering a diverse array of developments and potential applications in fields ranging from catalysis to molecular electronics. These have often evolved from studies in fundamental chemistry such as studies of the chemistry of low oxidation state and/or low coordination number compounds of the main group elements, fundamental studies in Lewis-acid/Lewis-base reactivity, main group heterocycles, free radicals and studies of the bonding in main group compounds.
This themed issue will focus on recent contributions from some of the leading researchers in the area, covering both fundamental and applications-driven research.
New Talent: Americas
This themed issue will showcase the excellent work being carried out in the Americas by emerging members of the scientific community.
The issue will focus on all aspects of the chemistry of inorganic and organometallic compounds, including biological inorganic chemistry, solid-state inorganic chemistry and the application of physicochemical and computational techniques to the study of their structures and properties.
Interested in submitting  paper? Please contact us for more information