We are delighted to announce that the Physical Chemistry Chemical Physics (PCCP) themed collection Complex molecular systems: supramolecules, biomolecules and interfaces is now online.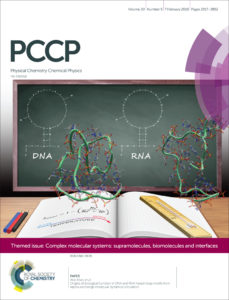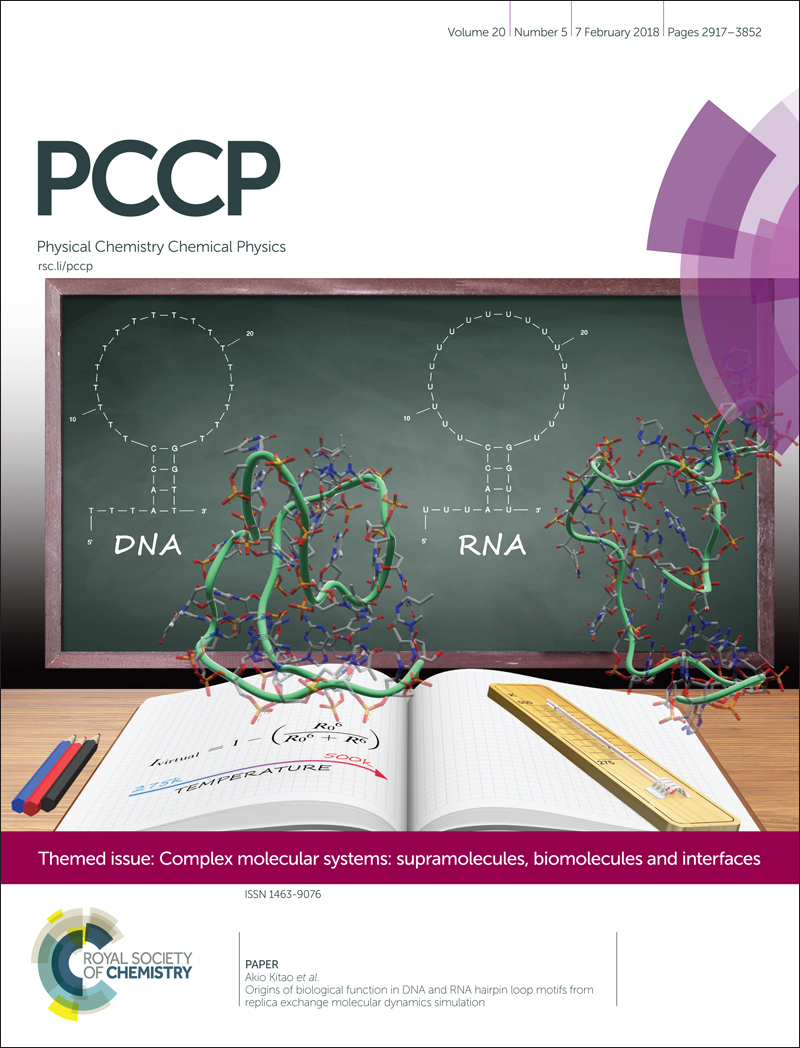 It includes:
Editorial 
Complex molecular systems: a frontier of molecular science
Tahei Tahara, Akio Kitao, Yasuhisa Mizutani, Hideki Kandori and Masaaki Fujii
Phys. Chem. Chem. Phys., 2018, 20, 2945-2946. DOI: 10.1039/C8CP90010H
Perspective 
Multiscale methods framework: self-consistent coupling of molecular theory of solvation with quantum chemistry, molecular simulations, and dissipative particle dynamics
Andriy Kovalenko and Sergey Gusarov
Phys. Chem. Chem. Phys., 2018, 20, 2947-2969. DOI: 10.1039/C7CP05585D
Communication 
The effect of regioisomerism on the photophysical properties of alkylated-naphthalene liquids
Narayan, K. Nagura, T. Takaya, K. Iwata, A. Shinohara, H. Shinmori, H. Wang, Q. Li, X. Sun, H. Li, S. Ishihara and T. Nakanishi
Phys. Chem. Chem. Phys., 2018, 20, 2970-2975. DOI: 10.1039/C7CP05584F
Paper 
Protonation/reduction dynamics at the [4Fe–4S] cluster of the hydrogen-forming cofactor in [FeFe]-hydrogenases
Moritz Senger, Stefan Mebs, Jifu Duan, Olga Shulenina, Konstantin Laun, Leonie Kertess, Florian Wittkamp, Ulf-Peter Apfel, Thomas Happe, Martin Winkler, Michael Haumann and Sven T. Stripp
Phys. Chem. Chem. Phys., 2018, 20, 3128-3140. DOI: 10.1039/C7CP04757F
Paper 
Analysis of the conformational properties of amine ligands at the gold/water interface with QM, MM and QM/MM simulations
Dongyue Liang, Jiewei Hong, Dong Fang, Joseph W. Bennett, Sara E. Mason, Robert J. Hamers and Qiang Cui
Phys. Chem. Chem. Phys., 2018, 20, 3349-3362. DOI: 10.1039/C7CP06709G
We hope you enjoy reading the articles. Please get in touch if you have any questions about this themed collection or PCCP.