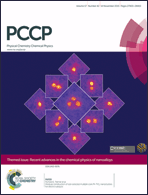 PCCP is pleased to announce the publication of the Recent advances in the chemical physics of nanoalloys themed issue.
Alloy nanoparticles (also known as nanoalloys) are multicomponent metallic particles in the 1-100 nm diameter range. Nanoalloys present very complex structures and properties, which crucially depend on their size, composition and chemical ordering, and which can therefore be tailored for specific and industrially relevant applications. These applications range from catalysis, magnetism, optics, to nanomedicine.
This themed collection presents a thorough account of the most exciting current research in nanoalloys, with articles from the most active groups, who are defining the state of the art in the field.  The Guest Editors for this themed collection are Riccardo Ferrando (Università Genova, Italy), Roy L. Johnston (University of Birmingham, UK) and Catherine Louis (UPMC-Paris 6, France).
Below are a selection of some of the high quality articles, and the full collection can be found here.
Orbit and spin resolved magnetic properties of size selected [ConRh]+ and [ConAu]+ nanoalloy clusters
Dennis Dieleman, Matthias Tombers, Lars Peters, Jennifer Meyer, Sergey Peredkov, Jeroen Jalink, Matthias Neeb, Wolfgang Eberhardt, Theo Rasing, Gereon Niedner-Schatteburg and Andrei Kirilyuk
Phys. Chem. Chem. Phys., 2015, 17, 28372-28378. DOI: 10.1039/C5CP01923K
---
Quasi-combinatorial energy landscapes for nanoalloy structure optimisation
D. Schebarchov and D. J. Wales
Phys. Chem. Chem. Phys.
, 2015, 
17
, 28331-28338. DOI: 10.1039/C5CP01198A
---
A DFT-based genetic algorithm search for AuCu nanoalloy electrocatalysts for CO2 reduction
Steen Lysgaard, Jón S. G. Mýrdal, Heine A. Hansen and Tejs Vegge
Phys. Chem. Chem. Phys.
, 2015, 
17
, 28270-28276. DOI: 10.1039/C5CP00298B
---