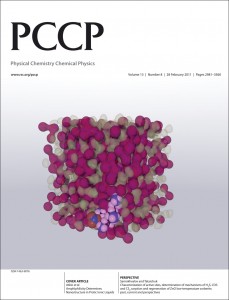 We would like to share with you some of the high impact Perspective articles which have been published in Physical Chemistry Chemical Physics (PCCP) in 2011.
Offering new insights and authoritative state-of-the-art accounts across the journal's broad scope, PCCP Perspectives are of the highest quality and impact.
On behalf of the Editorial Board of PCCP we invite you to submit your research today.
Read a selection of our high impact Perspectives:
Graphene-based electrochemical energy conversion and storage: fuel cells, supercapacitors and lithium ion batteries
Junbo Hou, Yuyan Shao, Michael W. Ellis, Robert B. Moore and Baolian Yi
DOI: 10.1039/C1CP21915D
Operation of micro and molecular machines: a new concept with its origins in interface science
Katsuhiko Ariga, Shinsuke Ishihara, Hironori Izawa, Hong Xia and Jonathan P. Hill
DOI: 10.1039/C0CP02040K
The CH/π hydrogen bond in chemistry. Conformation, supramolecules, optical resolution and interactions involving carbohydrates
Motohiro Nishio
DOI: 10.1039/C1CP20404A
Towards large-scale, fully ab initio calculations of ionic liquids
Ekaterina I. Izgorodina
DOI: 10.1039/C0CP02315A
Catalysis by metal–organic frameworks: fundamentals and opportunities
Marco Ranocchiari and Jeroen Anton van Bokhoven
DOI: 10.1039/C0CP02394A
Hofmeister effects: interplay of hydration, nonelectrostatic potentials, and ion size
Drew F. Parsons, Mathias Boström, Pierandrea Lo Nostro and Barry W. Ninham
DOI: 10.1039/C1CP20538B
Electronic structure in real time: mapping valence electron rearrangements during chemical reactions
Philippe Wernet
DOI: 10.1039/C0CP02934C
Weak H-bonds. Comparisons of CH…O to NH…O in proteins and PH…N to direct P…N interactions
Steve Scheiner
DOI: 10.1039/C1CP20427K
Seeing the forest for the trees: fluorescence studies of single enzymes in the context of ensemble experiments
Yan-Wen Tan and Haw Yang
DOI: 10.1039/C0CP02412K
Multiply-charged ions and interstellar chemistry
Diethard Kurt Böhme
DOI: 10.1039/C1CP21814J
Nanoconfinement effects in energy storage materials
Maximilian Fichtner
DOI: 10.1039/C1CP22547B
Electrostatic interactions in biological DNA-related systems
A. G. Cherstvy
DOI: 10.1039/C0CP02796K
Do we fully understand what controls chemical selectivity?
Julia Rehbein and Barry K. Carpenter
DOI: 10.1039/C1CP22565K
Plasma electrochemistry in ionic liquids: an alternative route to generate nanoparticles
Oliver Höfft and Frank Endres
DOI: 10.1039/C1CP20501C
Time-resolved photoelectron spectroscopy: from wavepackets to observables
Guorong Wu, Paul Hockett and Albert Stolow
DOI: 10.1039/C1CP22031D
Characterization of nanostructured hybrid and organic solar cells by impedance spectroscopy
Francisco Fabregat-Santiago, Germà Garcia-Belmonte, Iván Mora-Seró and Juan Bisquert
DOI: 10.1039/C0CP02249G
Structural and dynamic properties of oxygen vacancies in perovskite oxides—analysis of defect chemistry by modern multi-frequency and pulsed EPR techniques
Rüdiger-A. Eichel
DOI: 10.1039/B918782K
The yin and yang of amyloid: insights from α-synuclein and repeat domain of Pmel17
Ryan P. McGlinchey, Thai Leong Yap and Jennifer C. Lee
DOI: 10.1039/C1CP21376H
High to ultra-high power electrical energy storage
Stefanie A. Sherrill, Parag Banerjee, Gary W. Rubloff and Sang Bok Lee
DOI: 10.1039/C1CP22659B
Patchy colloids: state of the art and perspectives
Emanuela Bianchi, Ronald Blaak and Christos N. Likos
DOI: 10.1039/C0CP02296A
The mystery of gold's chemical activity: local bonding, morphology and reactivity of atomic oxygen
Thomas A. Baker, Xiaoying Liu and Cynthia M. Friend
DOI: 10.1039/C0CP01514H
The ab initio calculation of molecular electric, magnetic and geometric properties
Radovan Bast, Ulf Ekström, Bin Gao, Trygve Helgaker, Kenneth Ruud and Andreas J. Thorvaldsen
DOI: 10.1039/C0CP01647K
Fullerene derivative acceptors for high performance polymer solar cells
Youjun He and Yongfang Li
DOI: 10.1039/C0CP01178A
Colloidal metal nanoparticles as a component of designed catalyst
Chun-Jiang Jia and Ferdi Schüth
DOI: 10.1039/C0CP02680H
Diffusion models of protein folding
Robert B. Best and Gerhard Hummer
DOI: 10.1039/C1CP21541H
You can find many more excellent Perspectives on our website.