PCCP is delighted to present its current issue as a themed issue on Weak Hydrogen Bonds – Strong Effects?, Guest Edited by Wouter Herrebout (University of Antwerp) and Martin Suhm (University of Göttingen).
The cover image of this issue features the work of Dr Kisiel and co-workers on structure and properties of the (HCl)2H2O cluster, observed using chirped-pulse Fourier transform microwave spectroscopy (DOI: 10.1039/C1CP20841A).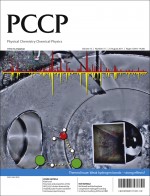 Highlights in the issue include these high-profile Perspective feature articles:
Weak H-bonds. Comparisons of CHO to NHO in proteins and PHN to direct PN interactions
Steve Scheiner
DOI: 10.1039/C1CP20427K
The CH/π hydrogen bond in chemistry. Conformation, supramolecules, optical resolution and interactions involving carbohydrates
Motohiro Nishio
DOI: 10.1039/C1CP20404A
"Union is strength": how weak hydrogen bonds become stronger
Sonia Melandri
DOI: 10.1039/C1CP20824A
Browse this high-profile themed issue today!
Call for papers: hydrogen bonding in electronically excited states
To complement this latest issue, PCCP is planning a themed issue in early 2012 which will focus on hydrogen bonding in electronically excited states.
Please submit your paper by 5 December 2011
Find out more about PCCP themed issues on our website.