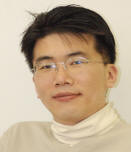 We are pleased to welcome Professor Taekjip Ha, Professor of Physics at the University of Illinois, USA, to the PCCP Advisory Board.
Professor Ha's research uses physical concepts and experimental techniques to study molecular biology. Techniques the group uses include single-molecule fluorescence spectroscopy and microscopy, and magnetic and optical tweezers.
He is also one of the Guest Editors of the popular 2010/11 PCCP themed issue series on biophysics and biophysical chemistry. The series includes issues on the following topics – check them out today:
PCCP biophysics and biophysical chemistry series
Sign-up to our free contents e-alerts to have the upcoming issues sent direct to your inbox.