Doping of semiconductor crystals with transition metal ions can create materials with improved optical, magnetic and thermal properties.  These could potentially replace conventional semiconductors in optical devices.  However, as the size and shape of the crystals as well as the dopant need to be controlled to optimise the desired properties, their preparation can prove difficult.  The addition of Cu ions to ZnSe nanocrystals is of interest due to their emission properties, but the large difference in structure between CuxSe and ZnSe makes retaining the shape after doping, problematic.
A new paper shows how doping of ZnSe crystals with Cu ions can be achieved under mild reaction conditions, obtaining ultrathin nanorods.  This is achieved by preparing  ZnSe nanorods then adsorbing Cu ions onto the surface and finally growing a thin shell of ZnSe on top, as shown in the figure below. The process, termed growth-doping, maintains the shape of the rods during the doping process.  The optical properties of the 1% Cu doped rods give a quantum yield of 7% and the emission is retained for weeks in air, suggesting it may have potential for use in optical devices.

For more information see the paper:
Facile synthesis and optical properties of ultrathin Cu-doped ZnSe nanorods
Shufang Kou, Tingting Yao, Xiaofeng Xu, Rui Zhu, Qing Zhao and Jian Yang
CrystEngComm, 2013, Advance Article
DOI: 10.1039/C3CE41493K
---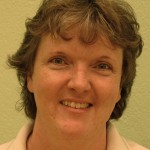 Gwenda Kyd has a PhD in metallocarborane chemistry from the University of Edinburgh.  Other research work includes the spectroscopic study of the structure of glasses and organometallic electron-transfer reactions and the preparation of new inorganic phosphors. Currently she is writing a book on chemicals from plants.