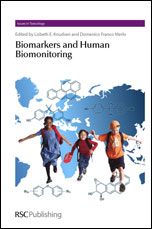 To celebrate the launch of the new RSC Journal, Toxicology Research, we've selected Biomarkers and Human Biomonitoring from the Issues in Toxicology Book Series as July's book of the month.
Human biomonitoring is a technique used to measure exposure to environmental agents such as phthalates, mercury and lead, by testing tissue or fluid samples for specific biomarkers, evidence that an environmental agent has entered the body e.g. the agent itself, its metabolites or a change resulting from the interaction of the agent in the body such as protein levels.
With an increasing use of this technique in environmental health assessments and in monitoring programs worldwide, Biomarkers and Human Biomonitoring provides readers with a complete overview of this fascinating area. Volume one introduces the key concepts of biomonitoring and summarises current global studies along with individual chapters on well known environmental biomarkers including bisphenol A, phthalates,  lead, mercury, arsenic, polycyclic aromatic hydrocarbons, and dioxins. Volume two highlights different biomarkers of exposure which are gaining recent attention including hemoglobin adducts, hormone activity and micronuclei as well as biomarkers of human exposure to environmental tobacco smoke and mycotoxins.
Find out more about how the environment is affecting you – read the ebook now:
Biomarkers and Human Biomonitoring Volume 1: Ongoing Programs and Exposures
Biomarkers and Human Biomonitoring Volume 2: Selected Biomarkers of Current Interest
Interested in similar titles? Read more books in the Issues in Toxicology and RSC Drug Discovery Series.