Our latest issue is now available online.
Featured on the front cover is work from Huanwen Chen of East China Institute of Technology and colleagues, who present a straightforward method based on extractive electrospray ionization (EESI) was developed for fishing native proteins from a highly complex biological soup for mass spectrometric analysis without any sample pre-treatment.
Communication: Direct detection of native proteins in biological matrices using extractive electrospray ionization mass spectrometry
Bin Hu, Shuiping Yang, Ming Li, Haiwei Gu and Huanwen Chen
Analyst, 2011, 136, 3599-3601
DOI: 10.1039/C1AN15410A
The inside front cover highlights work from Brian Cunningham and colleagues from the University of Illinois at Urbana Champaign.  They introduce photonic crystal enhanced microscopy as a label-free biosensor imaging technique capable of measuring cell surface attachment and attachment modulation.
Label-free imaging of cell attachment with photonic crystal enhanced microscopy
Erich A. Lidstone, Vikram Chaudhery, Anja Kohl, Vincent Chan, Tor Wolf-Jensen, Lawrence B. Schook, Rashid Bashir and Brian T. Cunningham
Analyst, 2011, 136, 3608-3615
DOI: 10.1039/C1AN15171A
Both these articles will be free to access for 6 weeks, so let your colleagues know!
On the back cover is research from the laboratories of Kyubong Jo and Han Bin Oh of Sogang University, Seoul.  They systematically studied DNA recognition by zinc-fingers using negative-ion electrospray ionization mass spectrometry.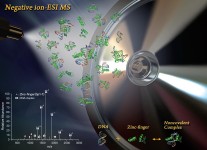 Zinc-finger motif noncovalent interactions with double-stranded DNA characterized by negative-ion electrospray ionization mass spectrometry
Soojin Park, Kyubong Jo and Han Bin Oh
Analyst, 2011, 136, 3739-3746
DOI: 10.1039/C1AN15376E