Issue 17 is our themed issue on Emerging Investigators, featuring papers from some of the rising stars of analytical science.  The aim of this issue was to highlight some of the outstanding young analytical scientists of today, and in doing so capture newly emerging high-impact areas of research  – once you've taken a look at the papers, we hope you'll agree that we've succeeded in doing this!
The issue is introduced in an Editorial from the Guest Editors: Perdita Barran of the University of Edinburgh and Christy Haynes of the University of Minnesota.
Editorial: Analyst's special focus on Emerging Investigators
Analyst, 2011, 136, 3405-3405
DOI: 10.1039/C1AN90062E
We'd like to thank Perdita and Christy for all their work, and all the authors for giving us such a great collection of papers.  You can find out more about all of our Emerging Investigators in our profile piece:
Profile: Contributors to the Emerging Investigators Issue
Analyst, 2011, 136, 3406-3409
DOI: 10.1039/C1AN90056K
The cover images for this issue are as good as the work they represent (yes, I know we have a biased opinion!)  The front cover features work from Ryan C. Bailey and Ji-Yeon Byeon in which arrays of silicon photonic microring resonators are used for the simultaneous evaluation of multiple capture agents against the same target antigen.
Communication: Multiplexed evaluation of capture agent binding kinetics using arrays of silicon photonic microring resonators
Ji-Yeon Byeon and Ryan C. Bailey
Analyst, 2011, 136, 3430-3433
DOI: 10.1039/C0AN00853B
The inside front cover showcases a review by Lane A. Baker and Sean P. Bird, focusing on recent advances in the use of hydrogels for chemical and biochemical analysis.
Minireview: Biologically modified hydrogels for chemical and biochemical analysis
Sean P. Bird and Lane A. Baker
Analyst, 2011, 136, 3410-3418
DOI: 10.1039/C0AN00871K
Both these cover articles will be free to access for 6 weeks, so take a look and let your colleagues know.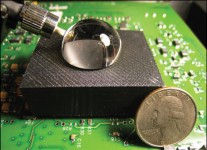 On the back cover is an image highlighting research from Aydogan Ozcan in the area of lensfree fluorescent on-chip microscopy, which enables rapid imaging of a wide field-of-view without the need for bulky optical or mechanical components or scanners.
Wide-field lensless fluorescent microscopy using a tapered fiber-optic faceplate on a chip
Ahmet F. Coskun, Ikbal Sencan, Ting-Wei Su and Aydogan Ozcan
Analyst, 2011, 136, 3512-3518
DOI: 10.1039/C0AN00926A
We hope that you enjoy this themed issue – please let us know your thoughts by leaving a comment below.