We are excited to announce a themed collection published in Environmental Science: Advances arising from the 5th Annual RE:BORDER conference taking place on October 24.
This issue will bring together a comprehensive collection of articles covering fundamental and applied research related to water challenges in the border region and coastal areas. Primary topics of interest include water pollution, agricultural water use, water reuse, and the impacts of climate change on watersheds.
Truly interdisciplinary, our journal welcomes research from all fields related to the environmental sciences, global environmental change, and sustainability science. Studies that advance our understanding of the physical environment, environmental health, and environmental sustainability, as well as those at the environmental and social science interface, are particularly welcomed.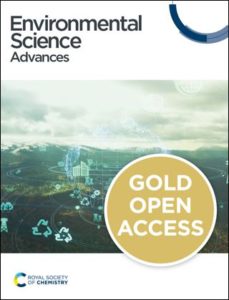 Submission Deadline: 30 April 2024
Article Processing Charges (APCs): APCs are waived on all submissions until mid-2024.
Contact: To express an interest in contributing, please contact Jon Ferrier in the RSC editorial office at ESAdvances-rsc@rsc.org.
Submitting an article: Please visit the journal submission platform at https://mc.manuscriptcentral.com/va. All submitted manuscripts must include an Environmental Significance Statement (120 words maximum) that sets the work in a broader environmental science context.
We hope that you will consider contributing your research to this collection.